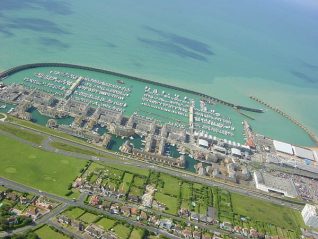 Picture contributed on 11-05-04 from private collection
Henry Cohen came to our school in the mid-1960's and gave a talk about his vision and plans for the Marina. None of us could really visualise the huge yachting harbour and mini-town of today, though his original plans certainly didn't include Asda and the cinema complex!
Watching the enterprise grow
I watched the enterprise grow as it was built in the 1970's, initially walking on the pitted chalk of the wave-cut platform exposed at low tide below Black Rock, and walking along the well-marked line (of concrete blocks) which showed where Volk's "Daddy Long Legs" had once run.
Engineers beat the sea
Several times I observed storms with huge waves breaking over the works and was sure that the whole effort would end, like the Chain Pier had in 1896, in the sea. But the end result has been a triumph of engineering, even if it has perhaps not brought the wealth into Brighton which the original scheme promised.