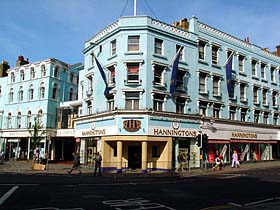 It had been going through my mind recently that I should drop a note to you all about the closure of Hanningtons. It is one of the last "old" haunts in the Brighton of my memories. I always made a trip to Hanningtons as part of each of my return visits to Brighton to take my mother for tea in the tea rooms and use the Ladies Powder Room – the only one I knew left that still had an attendant. It was like walking back into the past. Another part of its quaintness was the old open cage lift and I loved the way all the little departments blended into each other.
I was able to say goodbye to it all last month when I once again made a quick trip to Brighton, unfortunately for the funeral of my dear Mum.
I will be anxiously waiting to see the results of changes to the property and do hope they will be able to retain some part of its history and help to keep our memories alive.
And also the Astoria…
Coincidentally, my mother also worked for several years at the Astoria, in the concession counter, when it was a Bingo Hall. I believe that was in the 70's. It would be nice to see that property in use again and hopefully give the area a cleaner, brighter look than it has had in recent years. My mother, myself and my daughter have happy memories of time spent on the first floor of that same building at the Court School of Dancing as well and both my Mum and my daughter gained many awards for the ballroom dancing they learnt there.