Setting up Fiveways Artists' Open Houses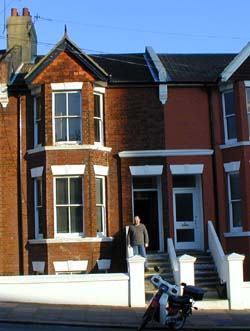 When I moved to this house in Brighton in 1980, I had plans to join in the Artist Open Studios that had been a feature of the Brighton Festival in the 1970s, only to find that they had discontinued. So I decided to go it alone and open all the rooms in my house during the 1982 Festival. I invited ten other artist friends to show with me.
The novelty of an artist opening his home to the public was soon picked up by the local papers, and the public loved it. They made comments like "it's easier to relate to art when it's shown in a domestic setting" or "I didn't think artist lived like this".
As others joined in, we soon became the Fiveways Artists' Open Houses and now there are about 200 Artists' Open Houses in Brighton and Hove. Many local businesses support the different groups around the City and one local pub has named itself 'Open Houses' after us.