A query about its history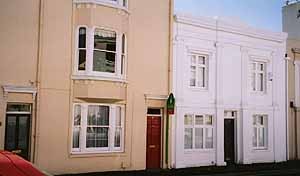 From Andrew McCarthy, e-mail query to My Brighton and Hove website, 25 May 2001
"At long last I've decided to change from a regular visitor to Brighton and to become a resident.
At the moment I'm in the process of buying 41 Upper North Street and am told by the current owners that it was originally a Regency House but has had a Victorian makeover. The street itself intrigues me and I wondered at its history.
The only thing I can work out from websites is that a census report shows a carpenter lived there in the early 1800's. Is there a connection between the street's (and No.41's carpenter) past and the number of antique shops there? There are a number of residential properties with old shopfronts.
Was Upper North Street a shopping street or were there more furniture/antique shops?"
Response – 41 Upper North Street and the history of the shops on Upper North Street
From Jan Hill, My Brighton and Hove volunteer, 28 June 2001
"I was in the Local Studies Library today and had a look in the directories for 41 Upper North Street. This is what I found….
Street numbering changed sometime between 1871 and 1876. The house which is now 41 was previously 36. From 1862 (first listing of that property which I could find) until around 1885 the resident was John Harvey (no trade listed). From around 1885 to the start of the 1900s, resident was P Kensett (no trade listed). From around 1910 until 1974 and maybe later, occupant was A.E. Guile (later Miss Guile) and the building is listed as apartments.
The builder that Andrew McCarthy found at number 41 in the 1800s was presumably W South but that building became 46 in the present numbering. Number 41 had a pub two doors in one direction "The Fox Tavern" at number 39 and "The Blacksmiths Arms" at 44.
Many trades in the immediate area of number 41 over the years, including cheesemonger, boot maker, lace-joiner, wardrobe buyer, fishmonger and many lodging houses. No particular predominance of furniture shops or antique shops. "