Organised walk through the tunnel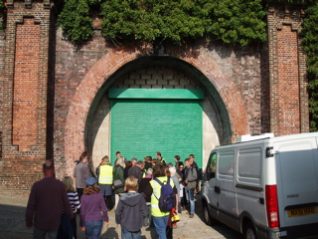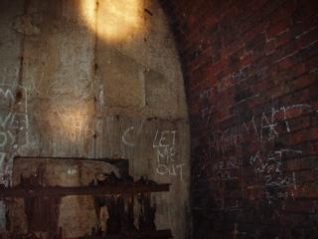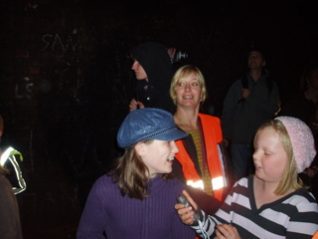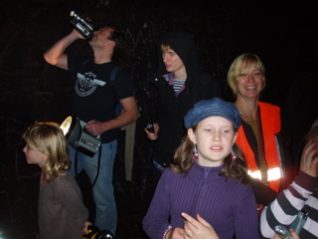 William Clarke Park (known locally as the Patch) is situated on the site of Hartington Halt, a former railway cutting on the Kemp Town line that was land filled during the 1970s. A viaduct ran across the Lewes Road (where Sainsbury's is), over Melbourne Street & Hartington Road through the patch and then under Elm Grove School playground where it entered a tunnel to Kemp Town Station. Most of the viaduct was demolished in the early 1970s.
A mixture of ages on the walk
In October 2007, Friends of William Clark Park organised a walk through the tunnel (which closed in 1971).  We were amazed at how much interest there was. Over 100 people requested a place but we could only take 40. A good mixture of ages ranging from 9 to 82 years gathered at the tunnel entrance at the KempTown end on a glorious sunny Sunday.  Amongst us was Derek who'd been a passenger on the last train in 1971 and Mike, a former worker on the railway who shared some of his knowledge during the walk.  The tunnel is just under a mile long and unfortunately the entrance at the Elm Grove end (which would have brought us out to the park) has been blocked for many years.
An incredible engineering feat
It was really atmospheric to walk the underground path of the former railway lit by torches, seeing the incredible engineering feat, with remains of coal dust on the ceiling and clearly visible pick-axe cuttings made by the workers who had crafted it over 100 years before. We wondered what roads and houses we were underneath during our walk and although there are air vents visable above ground there was no sign of them from inside the tunnel.  A couple of times we turned all our torches off and were plunged into complete darkness – the children (& adults probably) loved it!
Back at the pub
After the walk at the Hanover Pub, Godfrey Gould shared his wealth of knowledge on the rise and fall of the railway, illustrated by some wonderful old photographic images.  We showed video footage taken that day followed by a quirky film tracing the whole of the Kemp Town Railway made by Dumpman Films www.dumpman.co.uk .