Opening in September 1967
Private collection of John Knight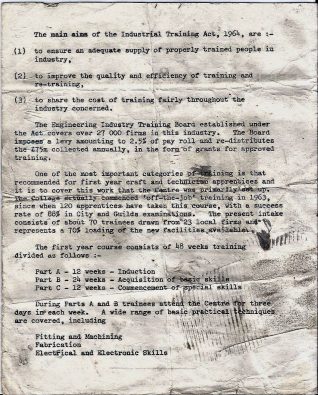 Private collection of John Knight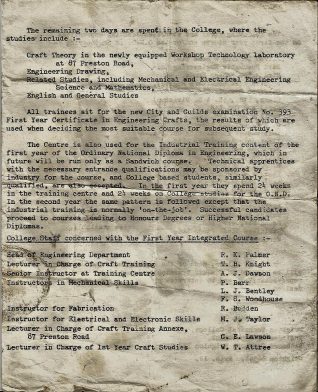 Private collection of John Knight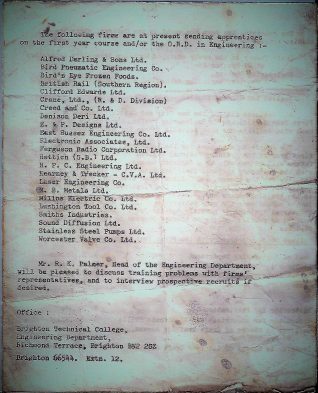 Private collection of John Knight
Opening information
The leaflet, if memory serves, was produced for the opening of School Road in September 1967, it describes the training programme and qualification objectives.  There is a list of the College Staff that should jog some memories for ex-students and staff? There is an impressive list of sponsoring companies that show what local (not to mention British) engineering has lost!
Employed as an apprentice
My introduction to engineering was through the scheme described in the leaflet.  I was employed as an apprentice by Kearney & Trecker – CVA. I was part of the first intake of about 120 students to School Road in September 1967. The workshops were set up in an empty factory. One of our first jobs was to level all the machines, using a pinch bar, a precision spirit level and packing shims. We had to do all sorts of odd jobs helping to set up the workshops before we got down to training.
Testosterone fuelled youths 
I remember Peter Barr, Frank Woodhouse, Ralph Budden and Mr Darling, the head of School Road was Alan Dawson.  The chap in charge of the Electrical Section was a Mr Taylor, one of our training projects with him was wiring Uni-Selectors for the Telephone Exchange. The chap in charge of the stores was a Mr Piper and his assistant was Mr Peach, he cleaned and lubricated the machines, we made their lives hell!  A hundred and twenty testosterone fuelled youths must have taken some supervising but we had a whale of a time and got an excellent basic training in engineering. I used several of the tools I  made until retirement. i.e. Vee block and toolmakers clamps.
An unforgettable character
We had three days a week at School Road on practical training and two days a week at Preston Road on mechanical and electrical theory, maths,  technical drawing, general studies and science. The science lecturer was called Reg Hough…an unforgettable character.
Six mile walk home
We were caught in the sudden huge snowstorm of December 1967, we all went out at lunchtime doing what lads do in the snow, on our return the building was closed and we were sent home, by this time the town was gridlocked, I had a very cold and wet six mile walk home!
Immediately made redundant
The Kearney & Trecker Training Officer, Mr Paine, used to come along to School Road with our wages. At the end of the year we were awarded a certificate from the Engineering Industry Training Board. My apprenticeship with Kearney & Trecker finished in May 1971 – I was immediately made redundant along with hundreds of other employees of KTM due to the slump in British engineering.
Not 'grass' them up!
I experienced life on the other side in 1975 as I was employed as a technician at Brighton Technical College in the Engineering Department.  I started work directed by Brian Clough Head of Department at 87 Preston Road, my first day coincided with the induction day for first year students in September a 'baptism of fire'! For a brief period I was seconded to School Road assisting the very able Senior Technician called George. On occasion I had lunch at a local pub and was surprised to meet up with some students, they asked me not to 'grass' them up!