Debbie - A girl into metal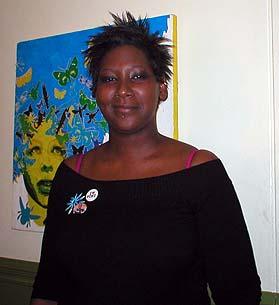 Photo by Louise Halvardsson
Doesn't want to pin herself down
Debbie is only 24, but has already been involved in four different music scenes: Indie, metal, hard house and gay pop. Now she's into all types of music and doesn't want to pin herself down as she did when she was younger. Mainly it was through the metal scene she found her identity.
Black girl into metal
"It was a reaction to where I grow up, [Peckham, London] which is a very black area. I didn't want to associate myself with other black girls. Metal was my way of saying I'm different, I'm me."
Still Debbie identified herself as a black girl into metal. Everything comes secondary to being black. Although the metal bit wasn't what you would expect. None of Debbie's friends were into the same music. It was a thing she did on her own, listening to the metal channel on the radio and buying the magazines. If she had found someone like minded she might have stayed longer in the scene.
Courage
Debbie laughs when she remembers how she used to think. At the same time she admires the courage she had.
"I was like this lone soldier, standing up for what I believed in. I had all these problems and nobody understood me. I didn't care if my hair was fantastic or not, didn't care if I had the latest shoes or if some guy came up and said something."
Some of her favourite bands were Placebo and System of a Down. She also really liked the Antichrist Superstar album by Marilyn Manson. She found the music mystic and that she was listening to something deeper, that had a message for her. The clothes she was wearing were all black and so was her make up.
"All the food I was eating for about three years must have been diseased with black lipstick!"
What Debbie wears now is a collection of stuff that she likes. She feels more comfortable with herself and also dresses more feminine. If somebody had shown her a picture of what she looks like today when she was 16, she would only have liked her short spiky hair.
Not alternative in Brighton
Before coming to Brighton Debbie studied in Oxford, where she found it very hard to settle in. She kind of drifted from the metal scene into the hard house. It was also in Oxford she started to hang out in gay bars.
"You get lots less aggression in gay places. People are more accepting, they come and speak to you more."
Debbie has never really had any trouble being who she is in Brighton. There are so many strange people walking around anyway. In fact she feels more different in London. Friends of her sister think she's fashionable.
"In Brighton I'm not alternative, but when I'm going back to Peckham I am!
Expecting her to be into "black music"
Another thing Debbie points out is that people expect her to be into a certain type of music.
"They tell me all about reggae and the DJ's and stuff. I never had an interest in black music and don't really follow it. People just assume that I do and they ask me where the good clubs are."
Occasionally Debbie goes out to a metal night, but she doesn't feel that she belongs anymore. Once she went out clubbing wearing a Chinese print top, which she really liked.
"But when I was standing in the Gloucester with my Snakebite, I felt really old. People must have been wondering what I was doing there, not realizing a couple of years ago I was really cool!"
Without making a statement Debbie thinks that metal tends to be more of a fashion thing nowadays. Like there are these unspoken rules what you should look like within the scene, and then it's back to wearing a uniform, which she doesn't like!