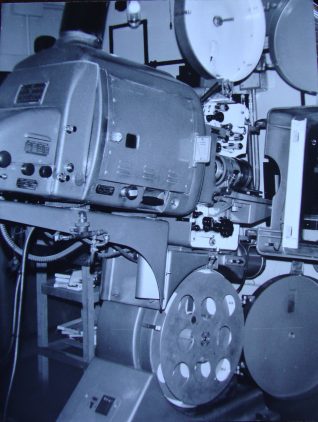 In 1963 I took a holiday to Brighton with my late father. I have always been interested in the cinema and remember counting thirteen cinemas. They were listed on posters around the town.
The Academy Cinema
We went to several picture houses. There was the Academy in West Street where we saw Lawrence of Arabia, screened in 35mm with four-track stereophonic sound. There were four magnetic tracks on the side of the film giving centre, left, right and sound around the auditorium. Several years later I interviewed Nicolas Roeg, who was a second unit cinematographer on the film and went on to become a director.
The Odeon and the Astoria
At the Odeon, West Street we saw the black and white war film The War Lover starring Steve McQueen and Shirley Ann Field. I interviewed her for a newspaper article over forty years later. 70mm was being screened at the ABC Astoria. The film was Mutiny on the Bounty. This had six magnetic sound tracks, which sounded superb.
The ABC, Essoldo and Continentale
The ABC, East Street is where we saw the Duke, John Wayne in Donavan's Reef. We also visited the now demolished Essoldo and the Continentale (now flats) where we saw a double Hammer horror. I remember the curtains (tabs) making a noise as they opened and closed. This cinema kept going when many had closed. Again, many years later by coincidence I interviewed the late cinematographer/director Freddie Francis, who directed a number of Hammer movies.
Visiting from London
In 1974 I went to live in London and visited Brighton several times. I went back to the Continentale, this time to visit the projection room. If I remember rightly they had Kalee 12 projectors. I visited the Cinescene, now demolished. They employed Kalee 21 machines. I also went to the Duke of York, which was screening Premature Burial back in 1963, which we didn't get around to seeing.
Picture palaces now only memories
Back in the early 1960s Brighton was a great place for cinema goers. Some cinemas showed old movies. We went to see a western, which was only being screened for two days. I think it was about Jessie James but can't be sure. Also I have forgotten the name of the cinema. It is sad that so many picture palaces have become nothing more than memories