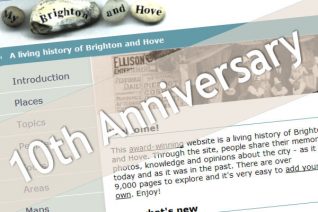 Each of our contributors in the 10th Anniversary Tours of Brighton and Hove was asked to choose ten of their favourite places in the city, and explain why each was a favourite for them.
The range of choices is interesting and sometimes quirky. But what this project has illustrated is that although we all live in this dynamic and vibrant city, we view it from many different perspectives.
We hope that you will enjoy Brian's tour and that if you have memories of any of his choices that you will share them with us. You can do that by going down to the bottom of each page and click on 'Add a comment to this page'.
Please remember that here at My Brighton and Hove we are always looking for contributions of views of the city, or your memories and photographs. For help and information on how you can be part of this award winning website, email jennifer@mybrightonandhove.org.uk