Memories of the old Town Hall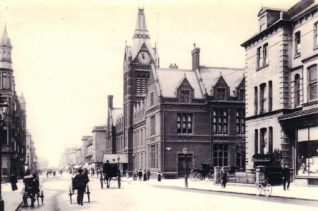 From a private collection
"In the late 1940s after demob I lived with my sister in Tisbury Road, Hove. The house was directly opposite that wonderful red brick building the 'real' Hove Town Hall. I loved its majestic clock tower with its tuneful chimes. It woke me many times after a night on the tiles, even then I loved every minute of it.
"Then disaster struck and fire raged through the building. I was in Surrey Fire Brigade and heard the East Sussex stations close to us 'covering up', so we knew it must be a big one.
"I saw what was left afterwards but thought the walls looked good enough for repairs to be carried out. Sadly the experts didn't agree with me and the building was demolished.
"Was a new one built? Well, I am not sure. I sometimes think squadrons of bulk concrete lorries turned up, dumped their loads and holes were made in the pile for doors and windows. For me it will never replace 'The Real Town Hall.'"