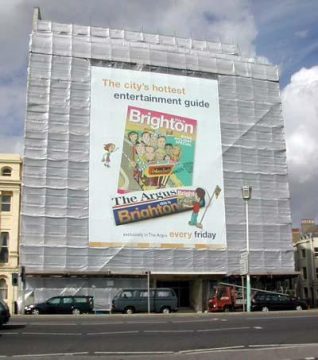 This giant poster was hung on the front of Embassy Court Brighton's most famous Grade one listed building in August 2004 for three weeks.
Cheeky caricatures
The enormous banner created by local cartoonist and illustrator Jim Burke shows cheeky caricatures of Brighton celebrities cruising the seafront in an open-top bus.
Total renovation underway
The giant poster is made of a translucent material so will not block extra light of residents living in Embassy Court. The building is currently undergoing a total renovation hence the additional scaffolding and plastic covering.