Owners: from the beginning to the end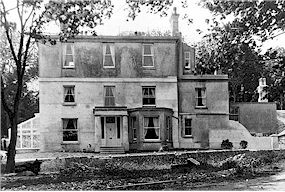 From the private collection of Jennifer Drury
Woodendean House, which stood in what is now Ovingdean Close, was built in the 1830s by a Mr. Lennard. By the late 1800s it was known as Woodingdean House. Notable owners include Mrs. Van der Elst, who lived there from 1929-39, 'the richest woman in Brighton' who had three Rolls Royce motor cars and fifteen servants.
Thomas Henry Sargeant of Brighton 'gent' – better known as Max Miller – owned the house from 1939-45. He 'cheekily' changed its name to Woodland Grange regardless of the fact that it certainly never was a grange.
Between 1958-60 the then owner sold off plots of the land adjoining the house for redevelopment. When he died in 1962 the rest was sold off and the house eventually demolished.