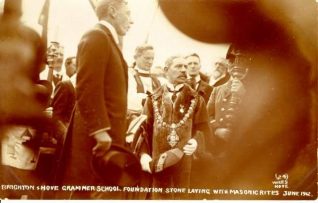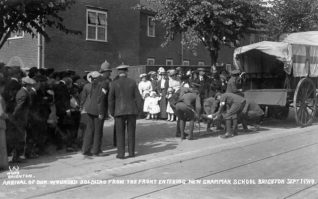 Please note that this text is an extract from a reference work written in 1990.  As a result, some of the content may not reflect recent research, changes and events.
This large school, which actually stands within the borough of Hove, has its origins in the Brighton Proprietary Grammar and Commercial School, founded in July 1859 at Lancaster House, 47 Grand Parade.
Pupils were nominated and elected to the proprietary school by shareholders, to be transferred later to the higher school on approval. There they were instructed in the classics, arithmetic, bookkeeping, accounting, etc., and also received a non-sectarian religious education. Non-proprietary pupils paid an entrance fee of one guinea and a quarterly fee of £2/10s. The boys had one week's holiday at Christmas and one month in the summer.
On 27 May 1868 the 180 pupils of the Brighton Grammar School marched in procession to a new, plain, three-storey school building in Buckingham Road. The headmaster from 1861 until 1899 was E.J.Marshall, to whom a plaque has been erected on the adjacent 79 Buckingham Road.
Due to the increasing number of pupils, the Grammar School moved for a second time in September 1913 to a site off Dyke Road then in the parish of Preston Rural; the Buckingham Road building at the corner of Upper Gloucester Road then became the Sussex Maternity Hospital and has now been replaced by a County Council social education centre. The new school, designed by S.B.Russell and known as the Brighton, Hove and Sussex Grammar School, was requisitioned for use as a military hospital soon after it opened in 1914.
It continued after the Great War as a grammar school until 1975 when it became a sixth-form college, commonly known by the acronym 'BHASVIC'. Especially notable is the panelled hall, decorated with murals, while the large library was added in 1935. The playing fields occupy 15 acres.
Any numerical cross-references in the text above refer to resources in the Sources and Bibliography section of the Encyclopaedia of Brighton by Tim Carder.