The move to the new Secondary Modern School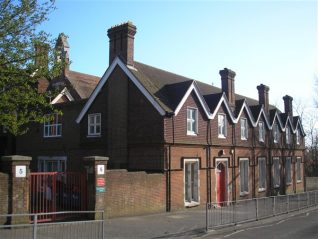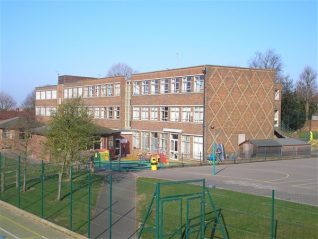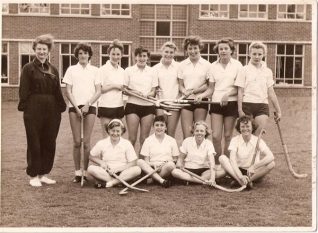 From the private collection of Jillian Foley
I was born in March 1942 in north London, however in 1952 after moving to Brighton I attended St Mary Magdalene Junior School in Upper North Street.
Sacred Heart Convent – Upper Drive, Hove
In 1953 at the age of 11, I went to the Sacred Heart Convent in the Upper Drive, Hove.  As convent girls we were somewhat shielded from the outside world by Sister Mary Immaculate and the other nuns, in that lovely building, which is now the home of Newman School.  It overlooked a house opposite called Greyfriars, which I understand was owned by the Hannington (department store) family.  Greyfriars was a beautiful detached house in its own extensive grounds.  Although the original house was demolished, a small estate of houses, still called Greyfriars, was built on the same plot in the 1970's.   In the early 1950's, up the road from Greyfriars there was a boarding school with extensive playing fields, now demolished and replaced by the Martlets housing estate.
Early pop
I can remember turning up at school with a picture from the magazine 'Picturegoer' of Elvis Presley, who no one had yet heard of.  I produced this picture and stated to my classmates that he was very handsome and didn't he sing Heartbreak Hotel (1956) in a fantastic way?  This was frowned on as it distracted me from my classical piano lessons.  This was early days of Rock n' Roll, things were soon to change!  It was at about this time (1956) that the new secondary school Cottesmore St Mary's was completed, and the "move over the road" started!
Cottesmore St Mary's – Randendin Manor Road, Hove
The move was carried out is stages, and I remember that although the majority of pupils were still in the Sacred Heart Convent building, some pupils had already moving into the brand new building.  It seems that at this time the facilities in the new building were incomplete.  I was given the task (I don't know why me) of walking over to the new school every morning to collect the dinner numbers of pupils who would attend lunch at the school canteen in the convent.  Presumably the canteen in the new building being incomplete at that time!  It was very quiet and safe in those days in the Upper Drive, with barely any traffic around at all. Certainly, as I recall, no children at all were dropped off or collected by car, that was unheard of.  Eventually we were all installed in the new building, however at first I really missed being in the old convent, although the new school had had good modern facilities, very extensive playing fields, netball courts, science labs etc.
Sports day
We had our annual Sports Day every summer at the Brighton & Hove Dog Stadium in Nevill Road, which was in those days the base for Brighton Athletics Club.  I was good at sport and ran in many races (athletics that is, not with the dogs), the hurdles were my favourite event.
Teachers of the 1950's
Having grown up through the late 1940's with rationing still in place, I was struck by the fantastic facilities in the new building.  The domestic science room had brand new electric cookers and a lovely domestic science teacher, Mrs Dickens who also coached us in netball.  I remember many of the other teachers fondly, Mr Valdez was the Science Master (correct terminology at that time) he was also a keen photographer.  The needlework class was run by Mrs Ochakowska, (may not be correct spelling).  I do remember she had the most amazing silver blonde hair done up in a chignon, never a hair out of place. We were taught to make very useful clothes, and I took home a supply of skirts and dresses, made in class, which I was very proud of.  Mr Peter Lesser and Miss Heather were both English teachers.  Mr Bratley ran the woodwork class, but it was of little interest to me! At this time Mr Smith was the Headmaster.  Occasionally we went on school trips, one I remember was a coach load of us going to visit the Old Vic to see Henry V with Richard Burton on stage; never to be forgotten!
I left Cottesmore at 16 years old in 1958 and went into secretarial work, however a lovely school with many happy memories!