Childhood memories, 1945-66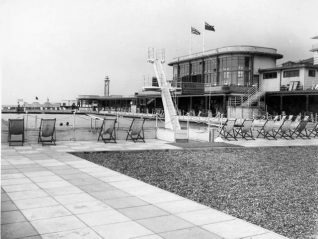 From the late 1945 to about 1966 I lived in Bennett Road. Black Rock was another of our playgrounds. The ladder beach was the beach where we went with our mum for a bit of sunbathing and generally having a good time in the rock pools at low tide. There were endless things to see in the beautiful little pools that the tide had left behind. My kids also enjoyed scrabbling around among the rocks that were a haven for wildlife.
Short cut to the beach
The short cut to the beach was via the ladder. But families with young kids, and older folk usually went down the steps further along the beach. When I was a kid the beach was very low, and the ladder long. Later on in life when I paid Brighton a visit I was surprised to see that the beach was very high and the ladder was very short, most of it buried in the stones.
Black Rock bathing pool
When we were a bit older Black Rock bathing pool was one of our happy places in the summer. I was very sad when it was demolished, it was such a lovely looking place, and very lively and happy. I think that it opened in April or May, and was freezing at the beginning of the season, but we couldn't wait for it to open, that meant that summer was on it's way.
The pool in winter
In the winter it was a different playground. The bathing pool was empty of water and we walked around it, and sometimes played football in it. There were rusty places in the paint on the railings where the salt water had found it's way in. But in the spring the paint was renewed and sparkling again. I can remember climbing to the top diving board in the pool and wishing I never had. It seemed so high, but once you were up there you had no chance of going back down, you had either to dive or jump off. But after a few scary moments it was ok. From the photos this top board doesn't look very high, but to us kids it did.
Walks on a Sunday morning
The undercliff walk was a favourite walk on Sunday mornings. We would walk to Ovingdean and back home along the cliff top. Later on we would ride our bikes with fixed wheels and cowhorn handlebars along the sea wall on the undercliff. The wall was only about a metre high, but on the other side was a good drop onto the beach. We never came a cropper thankfully, more by luck than judgement. Another few fond memories of Black Rock before the Marina was ever thought of. But the Marina is a playground for other generations just as we had in our time.