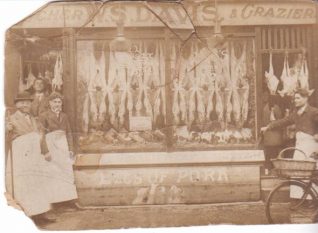 From the private collection of Sara Brooks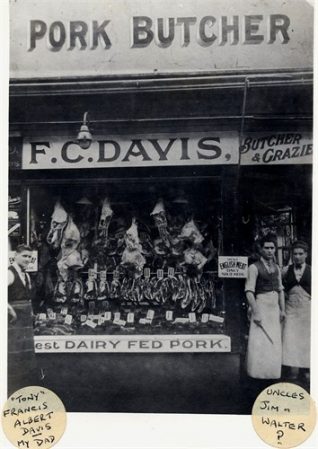 From the private collection of Sara Brooks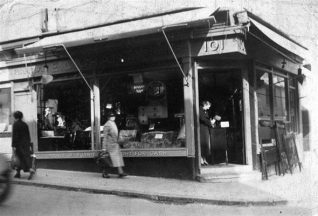 From the private collection of Roy Grant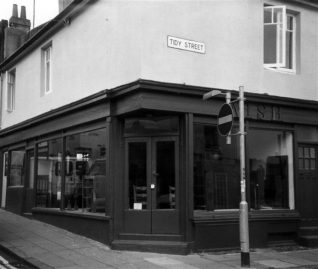 From the private collection of Roy Grant
A remarkable coincidence
It is a remarkable coincidence that I and another local history enthusiast share an interest in the identical shop at 101 Gloucester Road, Brighton.  In this text we have combined our resources and used a few old family photographs taken during the 1930s, to show its transformation from a master butcher's into a second hand furniture shop.
Brighton street directory
The history of 101 Gloucester Road, Brighton however, starts sometime between 1849 & 1850 when it first appeared in the Brighton street directory and George Newman, a local boot maker, took occupancy.  The Newman family remained at the shop until the 20th century, by which time that family had begun to focus more on the sale of leather goods.  The proprietors of the shop occasionally changed after that, but up until 1924, the retailing of leather products was still each shopkeeper's main source of income. 
Property sublet and renumbered
It would then appear that as 101 Gloucester Road had 3 doors to the street, parts of it were sublet and re-numbered, but we have yet to decide whether it was subdivided into two or three, and the numbering used.  Was it 101 + 101A + 101B, or, 101A + 101B + 101C? Street directories post 1924 state that 101 was a draper's shop, 101A a boot maker's, and 101B a tobacconist's.  The tobacconist's then became 101, with the boot seller still at 101A.
Major change of use
The shop's major change of use was around 1928 when Charles Frederick Davis converted 101C into a butcher's shop.  By 1930, his son Walter had taken this over and W S Davis (butcher) was shown in the street directory as trading from 101A and 101C and later editions confirmed the Davis family remained at that address until 1932, before moving to a shop in Portslade and opening a new business just across the road at 25 Gloucester Road.  
Change of ownership
In 1933, ownership or the lease of the shop (now listed as trading from 101 & 101B) shifted to Cyril R. Kitchingham (another butcher) and that family remained there until 1937.  The lease was then taken on by Ernest Christopher Grant, a second-hand furniture dealer, who was in business until about 1940, before becoming one of Brighton's wartime firemen.
Third subdivision
In all probability, the third subdivision, sometimes known as 101A or 101B, was just a single room with its own access, which was occasionally sublet to small concerns.  From 1930 – 1940 it served as a drug store run by E.J. Millar, Winifred's Ladies' Hairdresser, and eventually became another ladies' hairdresser run by a Helene Johnstone. Because of the War, there were no further street directories published until 1947.
Description of accommodation
My sister, Sheila Freeman, provided a brief description of the residential accommodation as she recalled it from her childhood in the late 1930s.   She wrote:
"If you stood in Tidy Street facing the shop, there was a door on the right hand side and a large door on the corner itself. The right hand door opened onto a flight of stairs at the top of which was the bathroom, and to the left of it, the kitchen/lounge. The main bedroom overlooked Tidy Street and a smaller bedroom overlooked Gloucester Road. Another flight of stairs went up to the attic space which was only used when the family had visitors."
Credits
Thanks to Andy Grant, who gleaned much of the information about previous shopkeepers from early Brighton street directories, and Sara Brooks for agreeing to let us publish her photographs of the Davis family butcher's shops (taken c1929 & c1932).
Note:  A partial photograph of 101 Gloucester Road taken in 1936, also appears in the James Gray collection.      http://regencysociety-jamesgray.com/volume25/source/jg_25_227.html