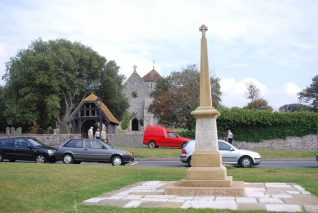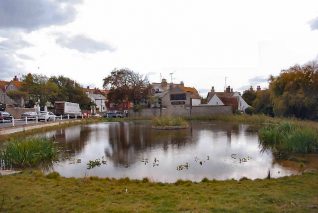 Please note that this text is an extract from a reference work written in 1990.  As a result, some of the content may not reflect recent research, changes and events.
The Green forms the heart of Rottingdean village, an outstanding conservation area, and is surrounded by many historic buildings. The grassed area itself, which occupies nearly half an acre, was once known as the Pump Green and was considered, for many years, to be the property of the owner of The Elms. However, the corporation started to maintain the Green in the 1930s and in 1973 registered it under the Commons Act. Standing on the Green are the parish war memorial, a simple obelisk of 1920 surmounted by a cross, and the former village well. Until mains water was introduced in 1879 this seventy-foot well was the only source of pure water in the village. The nearby pond was always a popular place for local shepherds to water their flocks, but dried up in the drought of 1976 and was found to have 'sprung a leak'. Since 1980 water from the well has been pumped to supply the pond.
Any numerical cross-references in the text above refer to resources in the Sources and Bibliography section of the Encyclopaedia of Brighton by Tim Carder.
The following resource(s) is quoted as a general source for the information above: 44,190-192