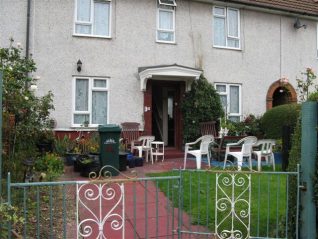 From the private collection of Ron Spicer
Further up Newick Road (number 5?) were the Killicks. Johnny was mad keen on the cinema and became an usher at the Regent Cinema. We got the odd free cinema seat through him! Continuing to almost the end of the road there were the Jame's. My age at this stage was probably seven.
Learning the facts of life
Ronnie James accompanied me to Sunday school, or so the parents thought. He found that I went discovering the area instead. The older brother confirmed for me how babies arrived, explaining that it was down to the parents' actions in the most graphic fashion and adding that if they didn't do it then it would be the doctor!
The Gocart craze
Ronnie's dad was a GPO engineer – one of the most well off in the district. He built a four wheeler (Gocart), expertly done and fully painted blue. It started a craze amongst the rest of us and dad Jack built one for us. It had a restraint system on the steering rope which helped to prevent the dangerous wobble that such creations had when travelling at any speed. We found that, with as many as four children aboard, we needed a better braking system so, unbeknown to dad Jack, two old bike saddles were sought out from one of the local dumps for dropping, upside down, under the back wheels in an emergency. We then used to go up Coldean Lane to the very hilly section and enjoy the ride. Cuts and bruises were the order of the day. But what a thrill!
Forbidden fruits
There were two dumps on the top of the hills over the back of Falmer. One was for fish, a very smelly dump with contaminated wooden boxes. The other dump was for fruit and veg and was the source of our wooden boxes for building "four wheelers." The waste was simply amazing. Good job our parents didn't find out how much of the fruit we ate. Nobody died from it so far as I know. Oranges and apples, pears, lemons, and some fruits I didn't know the name of for years afterwards. Those dumps were later removed, probably through the auspices of morally guided people who didn't realize how much we enjoyed them.
Anti-aircraft trenches
At the beginning of WWII, the whole area, which was completely smooth and flat, allowing a red monoplane to occasionally land, had large trenches dug to prevent the landing of enemy aircraft. The piles of earth resulting from them surrounded the searchlights which were then installed.