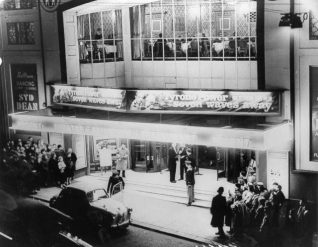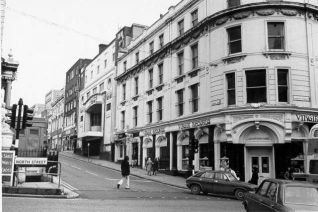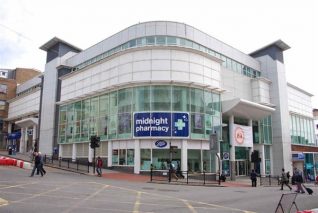 Please note that this text is an extract from a reference work written in 1990.  As a result, some of the content may not reflect recent research, changes and events.

c) REGENT CINEMA: This spectacular cinema stood near the corner with North Street and was opened on 27 July 1921 by Provincial Cinematograph Theatres Ltd at the immense cost of over £400,000; it was built on the site of the Unicorn Inn and several other buildings. The Regent was the first of several giant Brighton cinemas, seating about 3,000 people, and indeed it was considered the most luxurious cinema in the country, the first `super-cinema'. Designed by theatre architect Robert Atkinson, and with a classical interior by Walpole Champneys, it had spacious foyers and galleries, the Ship Cafe, and a Georgian-style restaurant with an orchestra. There was also a side entrance in North North Street at the corner of Windsor Street.
In November 1923 the famous dance-hall or winter garden opened in the arched superstructure on the roof which had originally been intended for a roof-garden. The Regent, together with Sherrys in West Street, was then at the forefront of Brighton's night-life for many years. Late in 1928 a serious fire destroyed the stage, the organ, and the proscenium arch, but the building reopened on 1 July 1929 as Brighton's first `talkie' cinema. The Regent was acquired by Odeon Cinemas Ltd in 1953. In 1962 a giant wide screen was installed, but the ball-room closed in July 1967 to become a full-time bingo hall, and the cinema itself closed on 14 April 1973 to be replaced by the Odeon complex at the Kingswest. The building was demolished the following year, and the site is now occupied by the Boots store.
Any numerical cross-references in the text above refer to resources in the Sources and Bibliography section of the Encyclopaedia of Brighton by Tim Carder.