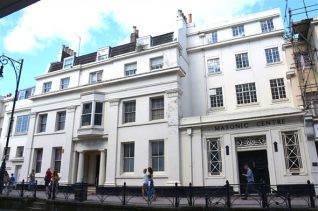 ©Tony Mould: all images copyrighted
My parent's restaurant
I lived in Queens Road, at my parent's restaurant – this was situated at number fifteen, and was called The Express Dining Rooms. We used to open at 5.30.am on Bank Holidays to serve the early arrivals on the excursion trains from the Midlands. Next door at the corner with Church Street was a shoe shop; Freeman Hardy and Willis.  Number 14 was Girling's cycle shop where I bought my first bike for 2/6d per week (30p today).
Do you remember any of these? Share your memories by posting a comment below.
Watching the machines
Next to the pub was a bespoke tailor, then there was a pawnshop, and next to this the office of Durtnalls, removals and storage. On the high pavement was the doctor's surgeries. There was Dr. Frazer whose practice was private, and Dr. Corr who looked after those who paid through a friendly society. Windstons's the printers, was a couple of doors up in the semi-basement where I could see the machines through the window. I used to watch them for ages – it was fascinating.