Charles Mitchell's release from the Navy, 1946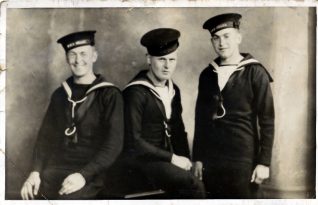 Contributed to the Letter in the Attic by Christine Desborough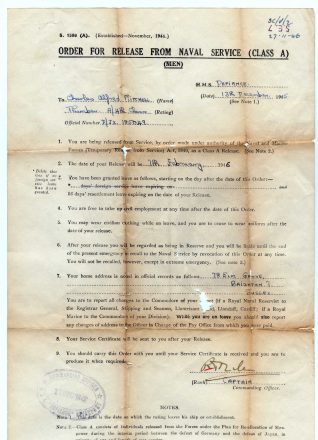 Contributed to the Letter in the Attic by Christine Desborough
Charles Alfred Mitchell (1919-2000) was born in Brighton and worked in the family's building business in Kemp Town all his life. He signed up to the Royal Navy in 1940, and married Doris Susan Cook in 1941. Throughout the course of the Second World War he served as a plumber A/4th class. During this time he saw active service on many ships including HMS Drake, HMS Norfolk and HMS Defiance but he was taken ill and hospitalised on the day he should have been joining the Royal Navy battle cruiser HMS Hood on its final tour of duty. He lost many of his friends when the HMS Hood was sunk by the Bismarck on May 24 1941.
Charles' order of release has been donated to the Letter in the Attic project by his daughter, Christine Desborough.
Want to know more?
View this entry on the Letter in the Attic online catalogue.
Explore the full catalogue
Visit the home page of the Letter in the Attic project