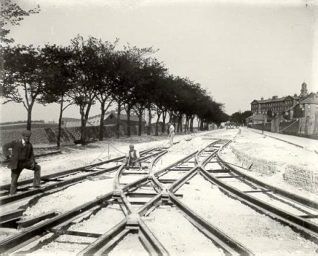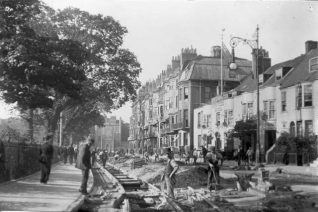 Please note that this text is an extract from a reference work written in 1990.  As a result, some of the content may not reflect recent research, changes and events.
a) ESTABLISHMENT and ROUTES: Schemes for tramways were suggested in 1864, 1879 and 1883, but the corporation's electric tramway system, authorised under the Brighton Corporation Act of 1900, commenced service on 25 November 1901 when the first car was ceremonially driven by the mayor, John Stafford, from the initial terminus at the southern end of Victoria Gardens along Lewes Road to Preston Barracks. Fares were charged initially at one penny for any distance.
The 9.5-mile system, completed by July 1904, was operated in a number of routes each known by the initial letter of a road or location along it, viz:
B – Beaconsfield
C – Cross-Town
D – Ditchling
E – Elm Grove
L – Lewes
M – Market
N – New England
Q – Queen's Park
S – Station
T – Tour
Special services were operated on race days, and also to Dyke Road when Brighton and Hove Albion played at home. Frequencies of four to five minutes were operated, and typical journey times from the Old Steine were: Brighton Station (8 minutes); Fiveways (18); Preston Barracks (15); Race Hill (18); Rock Gardens (27); and Tivoli Crescent (20).
Any numerical cross-references in the text above refer to resources in the Sources and Bibliography section of the Encyclopaedia of Brighton by Tim Carder.
The following resource(s) is quoted as a general source for the information above: 237-240a