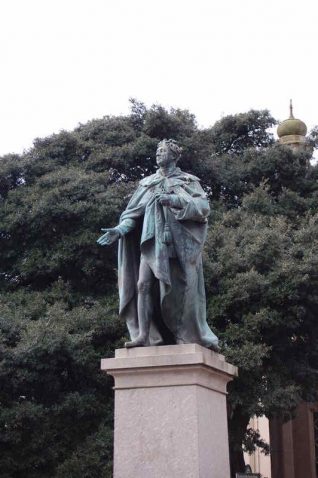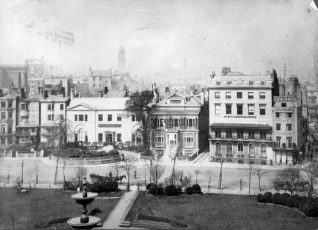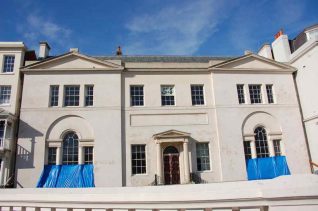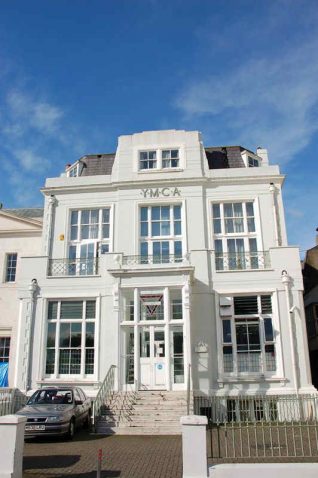 Please note that this text is an extract from a reference work written in 1990.  As a result, some of the content may not reflect recent research, changes and events.

d) MARRIAGE TO PRINCESS CAROLINE: After several years of contentment, George started to take an interest in other ladies of the court; the couple separated and the Prince ended the relationship (with Maria Fitzherbert) in June 1794, but granted Mrs Fitzherbert an annuity of £6,000. The Prince's debts were rapidly increasing however, and his father agreed to settle them only if he married and secured the Protestant succession. Consequently he married his cousin, the Princess Caroline of Brunswick, on 8 April 1795 and they arrived in Brighton about two months later, staying at Gerald Hamilton's house on the Steine (now Marlborough House ) as the Marine Pavilion was being decorated. A daughter, Princess Charlotte, was born on 7 January 1796 in London, but soon afterwards the Prince, who was never fond of his wife, separated from her and in fact spent the 1796 season at Bognor rather than Brighton because of public sympathy for his new wife. Their daughter and heir Charlotte was later to die in childbirth on 6 November 1817.
George proved to be still obsessed by Maria Fitzherbert however, and declared to his brother William that she was his only true love; he made out a will leaving all his possessions to her in 1796, and then begged her for a reunion. In 1800 Maria received the Pope's declaration that she was George's only true wife in the eyes of God, and the couple were duly reunited. Steine House (now the Y.M.C.A.) was built for Maria in 1804, and the couple lived a devoted life again for several years.
e) The REGENCY: By 1811, with the King severely ill, the Prince was fearful that his liaison with Mrs Fitzherbert, a Catholic, would adversely affect his position as probable Regent; he finally ended their relationship in June 1811 when he snubbed her at a dinner. Having been created Regent on 5 February 1811 (he also acted briefly as Regent in 1788), the Prince then planned the transformation of his Marine Pavilion into a splendid palace, the Royal Pavilion , to befit his new status.
Maria never again entered the Pavilion while George was alive, but her annuity was raised to £10,000 in 1820. Indeed, she was only reconciled after his death when his brother, William IV, learned of her secret marriage; he insisted that her servants should wear the royal livery. Maria Fitzherbert died at Steine House on 27 March 1837 aged eighty and is buried near the altar of St John the Baptist's Catholic Church in Bristol Road . Her memorial, designed by John Carew, shows her kneeling with three rings on her wedding finger.
The question of whether Maria had any children remains unanswered. She lived for a long time with two adopted daughters, one of whom, Minnie Spencer, the Prince was certainly very fond of; it has been suggested that they were the children of her marriage to the Prince.
f) ACCESSION: The Prince Regent succeeded to the throne on 29 January 1820 at the age of fifty-seven, and made his first visit to Brighton as King George IV on 26 October 1820, staying at Marlborough Row while the Pavilion was being transformed. He was crowned on 19 July 1821 with huge celebrations held in Brighton, but he refused his legal wife, Princess Caroline, access to the coronation ceremony. After the Royal Pavilion was finished in 1821 however, George IV visited the town at less frequent intervals as he became annoyed with the ever-increasing crowds and an insult to one of his lady friends; indeed, he made his last visit to Brighton in 1828. He died at Windsor on 26 June 1830 aged sixty-seven, and was buried at Windsor together with a locket of his one true love, Maria Fitzherbert. A statue of George IV, erected in 1828, may be found adjacent to the North Gate of the Royal Pavilion . A BBC drama series starring Peter Egan and Susannah York, The Prince Regent, was shown in 1979.
Any numerical cross-references in the text above refer to resources in the Sources and Bibliography section of the Encyclopaedia of Brighton by Tim Carder.