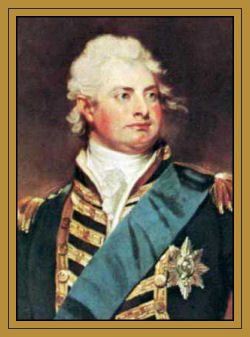 Image in the public domain
Please note that this text is an extract from a reference work written in 1990.  As a result, some of the content may not reflect recent research, changes and events.
George IV's brother William visited Brighton many times as the Duke of Clarence before succeeding to the throne in 1830, but he made his first official visit as King on 30 August 1830 when a triumphal floral arch fifty feet high was erected at the northern entrance to the Royal Pavilion. William IV enjoyed Brighton very much, staying in the town every year during his reign, and with Queen Adelaide would often stroll along the Chain Pier, ride to Rottingdean, and walk through the Kemp Town gardens and slopes. He also further developed the Royal Pavilion and grounds, officially redesignating it the 'Royal Palace, Brighton'.
Any numerical cross-references in the text above refer to resources in the Sources and Bibliography section of the Encyclopaedia of Brighton by Tim Carder.