Appeal to save the building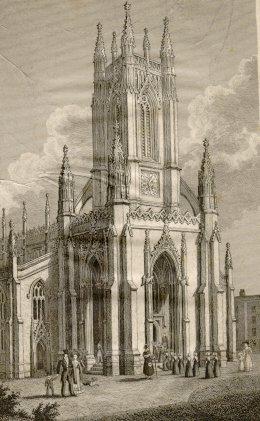 In July 2005, we published an article about the plans for the future of St Peter's Church. At that time, the church had launched an appeal for local people to make their views known by filling out a questionnaire. Suggestions that the church should be closed, or even demolished, had been greeted with astonishment and anxiety. In a very few weeks the fate of St Peter's will be finally decided.  As the deadline approaches, the Friends of St Peter's are asking for help in their campaign to keep the building open.  If you would like to help you can contact them on 07793 608 307, or send a letter/email to the address provided below.
History notes
St Peter's was built in 1824-8 as a chapel of ease to St Nicholas's Church and was consecrated by Dr James Carr, Bishop of Chichester, on 25 January 1828; the foundation stone had also been laid by Dr Carr on 8 May 1824 in his previous position as Vicar of Brighton. The church, which was designed in the Perpendicular and Decorated styles, is one of the earliest and finest Gothic revival churches in the country and is a listed building. It was constructed to the plans of Charles Barry (later the designer of the Houses of Parliament) who had won a competition organised by the vestry in August 1823, but the original design, which had a spire atop the tower, was not adhered to. The total cost of the chapel was £20,365. On 22 June 1873 St Peter's Chapel was designated the parish church of Brighton, replacing St Nicholas as the town was divided into several district parishes. (Timothy Carder: Encyclopaedia of Brighton)
Deadline 19th December
As the deadline for a final decision on the future of the building is approaching, the Friends of St. Peter's Church have launched an appeal for letters/emails of support to save the church to be sent to the Church Commissioners.  If you would like support this appeal please write to:
Rex Andrew
Pastoral Division
Church Commissioners
Church House
Great Smith Street
LONDON SW1P 3AZ
Email: rexandrew@c-of-e.org.uk
Letters/emails to arrive not later than 19th December.