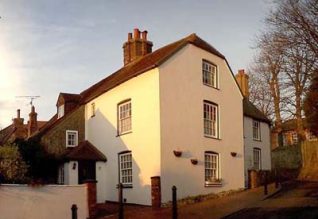 Kemps is situated at the Eastern end of the High Street and was built around 1540 by the Blaker Family. This family and their descendants have been significant and wealthy landowners within Portslade and elsewhere in Sussex. They have been associated with the nobility, and held positions as surgeons, Members of Parliament, and mayor of Brighton.
Two wings built in three stages?
The house consists of two wings, the Eastern wing being built first. The house has substantial structural oak beams throughout, and there is evidence to support the theory that the two wings may actually have been built in three stages.
Built on the site of a previous house
Old foundations discovered during the exacavations for the new road in 1975 revealed a passageway possibly to the Manor, and old foundations joining the existing house, which indicates that there probably was another house here before 1540, which could explain where the Blakers were living between 1485 and 1540.  The house is flint with brick dressings and quoins. The walls are up to 2 feet thick in places. The site of the house is framed by high flint walls, and is situated just opposite from the site of the Old Manor.
The Blaker family home
Kemps was the home to the Blaker family for many generations. The last Blaker living at Kemps appears to be Anna Kemp Blaker (died 1869). Cordelia (died 1854) was left the house by her father, and her will states that the house was to be sold and divided up between the rest of the siblings. It is not certain whether Anna Kemp Blaker bought the house or not, but according the census she was living there from 1854.
The attic rooms are said to have been used as a Meeting House by the first Quakers during the the reign of Henry VIII.