Early recollections and Adolf's near misses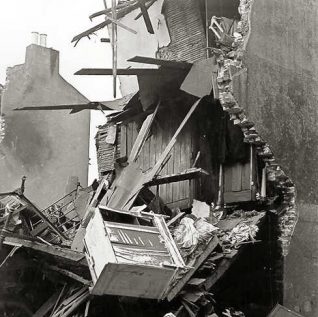 From a private collection
I was born in August 1940 when England was at war with Germany. I made my entry into this world at the height of an air-raid – what perfect timing. What with the sound of anti-aircraft fire and me screaming, my mother must have been on the verge of insanity. I was raised at 29 Windmill Street, grew up to eventually own it, and finally sold it in 1998.
An air raid in Albion Hill area
My mother told me this story although I still recollect the events. It was early 1943 when my mother had just left the local Post Office in Carlton Hill, having declined the invitation for tea with a person that lived nearby, in Devonshire Street. The air-raid siren had sounded so my mother ran to her father's house in Lennox Street, being the nearest place of shelter, grabbed me from the pram, which was incidentally left in the street, and bundled her children inside.
Can still remember the fear
Even though I was nearly three years old, the fear generated by my mother and the sound of, what could have been, anti-aircraft guns are still imprinted deep in my memory. Yet, funnily enough, I do not remember the actual explosion.
Bombers aimed for the factory
After the all-clear siren had sounded, people ventured back into the street, my pram was found, somewhat battered, under a pile of chalk rubble. I would certainly have been seriously injured, if not killed. It was thought that the enemy had targeted the nearby factory, known locally as the 'Zylo Works'. Under wartime regulations, this company manufactured instrument parts for our own fighter aircraft.  The enemy dropped a stick of bombs and missed, unfortunately, landing on some of the surrounding houses.
The hand of fate
The woman who had invited my mother to tea was holding a welcome home party for her husband; he was in the Navy and due to come home on leave that afternoon. The woman's home was one of those bombed and she was killed outright.  The hand of fate, for if we had all gone for tea, we would certainly have been killed? Had I stayed in my pram then I would have met an equal fate.  My mother wanted to escape all this; she verged on a near breakdown. I am sure it was the children that kept her sanity.