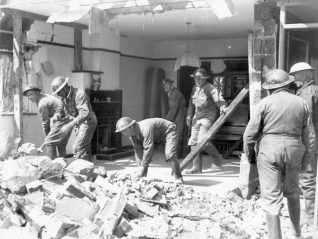 Shortly after my brush with death in my pram, Aunt Nell, who lived at no 26 Windmill Street, came up with the idea of voluntary evacuation.  Her brother-in-law ran a country pub at a village called Southwater, nr. Horsham, Sussex.  Here, living in a near-by cottage, was a middle-aged couple that would be willing to take in my mother and children as evacuees; at least until things quietened down, or the war ended.
A senseless Luftwaffa exercise
Whilst at Southwater the enemy tried once more to eliminate me from the face of this earth. It was early 1944 whilst we were walking home along the Worthing Road, my mother heard the noise of a low flying aircraft, an enemy plane. No siren had sounded; it was just my mother's alertness or was it instinct, I will never know.  It was a fighter aircraft and it was firing its cannons down the road, trying to kill anything that moved. A totally wasteful and senseless exercise that the German Luftwaffa had adopted in trying to kill innocent people. An exercise that could never win a war, yet it still goes on in the new millennium. I digress.
Mother protected us
My mother threw us children into a ditch at the side of the road and lay on top of us, to protect us from the danger. We survived the attack but I was stung unmercifully by stinging nettles, the least of my worries. Yet another failure by the enemy to eliminate me. I remember the incident, of being thrown into the ditch, and the stinging nettles; again my mother filled in the details.