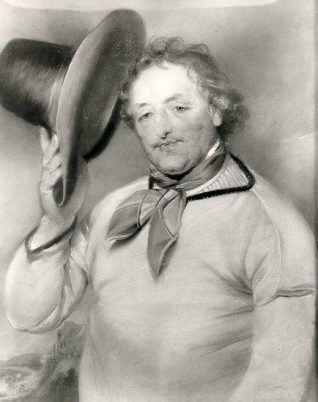 Please note that this text is an extract from a reference work written in 1990.  As a result, some of the content may not reflect recent research, changes and events.
b)DIPPERS and BATHERS
As the popularity of sea-bathing grew so a new profession developed, with some of the town's fishermen and their families turning to bathing visitors for a living. Ladies were bathed by so-called 'dippers' and gentlemen by 'bathers'; in both cases the subject was plunged vigourously into and out of the water by the bather or dipper. By 1790 there were about twenty dippers and bathers at Brighton and they continued in business until about the 1850s.
The 'queen' of the Brighton dippers was the famous Martha Gunn. Born in 1726, she was a large, rotund woman and 'dipped' from around 1750 until she was forced to retire through ill health in about 1814. She was a great favourite of the Prince of Wales who granted her free access to his kitchen; an amusing story relates how she was given some butter on one of her visits, but was cornered by the Prince who continued talking to her while edging her nearer the fire until the butter was running out of the poor lady's clothes. Martha died on 2 May 1815 and is buried by the south-eastern corner of St Nicholas's Church; her portrait, painted in 1796 by John Russell, hangs in the tea-room of the Royal Pavilion and her house still stands at 36 East Street.
Martha Gunn's male equivalent was John 'Smoaker' Miles, who also became a devoted friend of the Prince of Wales. He is said to have pulled the Prince back by the ear when he thought he was straying too far from the shore, and once even walked to London to enquire about His Royal Highness's illness. He was a frequent visitor to the Marine Pavilion, and the Prince named a racehorse after him and also introduced the Smoaker Stakes to Brighton Races in 1806. Miles died at the age of 74 in February 1794 and was buried by the west wall of St Nicholas's Churchyard, but the grave is now unidentifiable. His portrait, painted by John Russell in 1791, hangs in the King's Apartments of the Royal Pavilion.
Any numerical cross-references in the text above refer to resources in the Sources and Bibliography section of the Encyclopaedia of Brighton by Tim Carder.

The following resource(s) is quoted as a general source for the information above: {2,3,10,14,15,112,115}