Old Church Hall, Hollingdean Terrace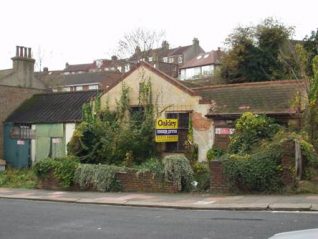 This article originally appeared in Hollingdean News December 2006 issue – an independent community newsletter produced and distributed by Hollingdean residents.

In November, I asked if anyone knew the history of a rundown building at the Dip end of Hollingdean Terrace as it currently has an "under offer" estate agents sign and will no doubt be demolished for redevelopment. Two readers kindly got in touch and their memories, along with a trip to the local planning office, gave me the following background.

Church mission hall
The building was purpose built as a Church Mission Hall (possibly in the 30s) and was run in connection with what is now known as The United Kingdom Evangelization Trust, a charity with Christian Brethren roots set up in 1906. The site backs onto land which was developed to build Adams Close, a relatively recent addition off Hollingbury Crescent.
One reader who grew up in Hollingdean Terrace recalls going to the 'Chapel' Sunday school in the afternoon from 1941 onwards and also to craft activities such as basket weaving on weekdays after school, in sessions which were open to all. These were very popular, with upwards of 35 children attending and predated any youth clubs in the area. At that time the hall was run by a Mr. Maxwell and his daughter Ruby and had a garden round it which was eventually concreted over. At the back of the hall was a room used as a library also open to local people.
The Crusaders
Another reader remembers a church run youth club at the hall called the 'Crusaders' which was popular before the advent of the first Hollingdean youth and football clubs based at St. Richards Church, which was built in the early 1950s.
Air raid shelter
During the war, there was an above ground air raid shelter built at this end of Hollingdean Terrace next to the hall and with good reason – vibrations from the impact of a bomb dropped on the 'Dust Destructor' at Hollingdean Depot site were felt in houses in the road.
Redevelopment
The hall seems to have ceased function as a Chapel in the early 1950s, was later used for storage and over decades has fallen into a derelict state. A long running dispute over ownership of the land between the church and an individual has complicated redevelopment. Outline planning permission (now expired) was granted in 1989 for sheltered flats, and in 2005 a planning application was submitted for a rebuilt community hall and three terraced houses, by trustees of the original church organisation, with the use of the hall to be run by another Brighton church group. This application was subsequently rejected in January 2005.