Some of the country's largest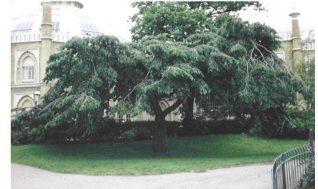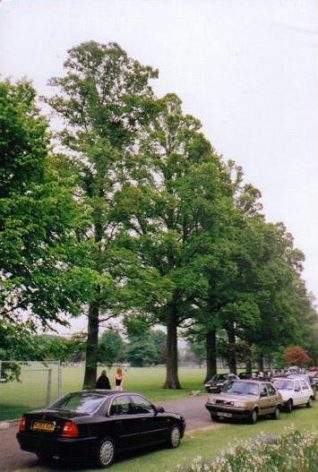 Here are a series of photographs of elm trees in Brighton and Hove. For anyone who is not aware, Brighton and Hove have some 30,000 elms; we are the holders of the National Collection for the Genus Ulmus (Elm) and have some of the country's largest examples.
Ten facts to start you off
The Weeping Wych elm (Ulmus glabra 'Horizontalis') in the Royal Pavilion Gardens, West Lawn by the Brighton Dome, is one of the finest left in the UK; it was a champ until others bigger were found. To the locals its one of the most popular trees. It was planted around 1900.
The Preston Twins, Preston Park, Coronation Garden near the Manor House. These two trees measure 6.8m in girth circumference (hence the name Preston Twins) and are as much as 400 years old. They may have been part of a hedgerow, but now stand as singular pollarded trees. They are the world's largest specimens of their kind. They are English elm (Ulmus minor var. vulgaris), this species was once very reknowned in southern England and featured much in paintings by Turner and Constable.
The Brace Tree, West Lawn, Royal Pavilion Gardens. This tree has a distinct feature, an iron brace which is now part of the tree! More fascinating is the fact that its one of the first planted as as an amenity tree for Brighton's first park, The Promanade Grove, which has long since been engulfed into John Nash's Royal Pavilion Gardens. The tree was planted around 1776 and has a girth circumference of 4.6m.
Rare elms include Ulmus villosa from the Jammu Valley in Kashmir and as many as 100 Ulmus wallichiana (Himalayan elm) in the city. Crespin Way, Hollingdean, has many of these rare Himalayan elm as well as elms used in Dutch Elm Disease resistance tests. Such elms have no names just numbers, these include Ulmus '148' and Ulmus '260'. Many council housing estates, such as Whitehawk and Moulsecoomb, have examples of these unusual clones.
The West Ride line of Jersey elm (Ulmus minor ssp. sarniensis), averaging 29m tall and girth circumferences of 2m, were planted around 1880, roughly the time when the park was handed over to the public from the Stanford family. There are some 40 trees, with one Cornish elm (Ulmus minor ssp. angustifolia) at the north end. They are the World's best example in a single lined avenue.
Freshfield Road, Brighton, has one of the finest examples of Dutch Elm (Ulmus x hollandica 'Hollandica') roadside pollards. They, like other trees planted in nearby Elm Grove, were planted around the late 1800s. However the Elm Grove trees were twice replaced and now have a totally different species which were planted around 1950. These are like those on the West Ride in Preston Park, Jersey elm.
A wood of Ulmus minor var exists amongst the Three-Cornered Copse in Hove. These trees are well into maturity and were obviously planted as the species is not common for this region.
A very rare Purple-leaved Wych elm (Ulmus glabra 'Atropurpurea'), which exists in Cottesmore St. Mary School in the Upper Drive, Hove, is a very tall example of this species. Naturally its the UK's biggest.
Queen's Park has many fine examples of Wych elm (Ulmus glabra), which in general terms was not planted very much as a park tree. The English elm and Dutch elm were more popular. Powis Square is totally Wych elm. Wych elm is a common woodland tree in Withdean and has reached some considerable heights on the steep banks above Withdean Stadium.
The Old Steine War Memorial would look very barren if it wasn't for the elms which make up its entire population of trees. Other totally elm dominated areas include Marmion Road Park in Hove. There one species is dominant, the Huntingdon elm (Ulmus x hollandica 'Vegeta'). This species is the city's most common street tree as well.