Earliest reference to a mail service - 1675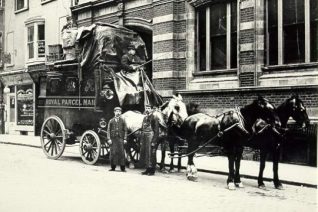 Please note that this text is an extract from a reference work written in 1990.  As a result, some of the content may not reflect recent research, changes and events.
a) EARLY SERVICES: The earliest reference to a Brighton mail service was in 1675, when the General Post Office established a route from Chichester to Lewes via Shoreham and Brighton. By 1788 and the arrival of fashionable society, there was a daily post from Brighton to London in the summer and four times weekly during the winter. The first Royal Mail Patent Coach from Brighton to London ran on 29 April 1791 via Lewes, and a new mail coach via Cuckfield commenced on 10 May 1810 taking eight hours, but it was replaced in 1813 by an armed rider.
b) BRIGHTON POST-OFFICE: The earliest known postal house in the town was sited at the Old Ship in the 1750s with the proprietor as post-master, but it moved several times before the present Ship Street premises opened. In 1777 it moved to the south-eastern side of Middle Street ; to 92 North Street in about 1780; to Thomas's Library in 1781; to Crawford's Library in about 1784; to the northern end of Prince's Place in 1803; to 67 East Street in September 1822; to 149 North Street in June 1827; and to 22 New Road on 23 September 1831, a building which still stands and is decorated with fluted pilasters.
The introduction of the penny-post in 1840 brought about a large increase in mail which necessitated larger central premises. The Head Post-Office in Ship Street was therefore opened on 26 March 1849 (at the bend of the street), and was enlarged in August 1858. It was extended again in 1870 to accommodate the telegraph operation with letter-sorting removed to Brighton Station . In 1892 the Head Post-Office was expanded further northwards into adjoining premises in Ship Street where a new entrance was made, and a new sorting-office was opened at the rear on the site of the Model Dwellings. In 1926 the sorting-office was removed to a new building on the site of the Regent Foundry in North Road , extended to Gloucester Road in 1937. The former drill hall in Church Street has been used full-time for parcel-sorting since 1967.
Any numerical cross-references in the text above refer to resources in the Sources and Bibliography section of the Encyclopaedia of Brighton by Tim Carder.
The following resource(s) is quoted as a general source for the information above: {15,83,165-166}