From rough sleeper to tutor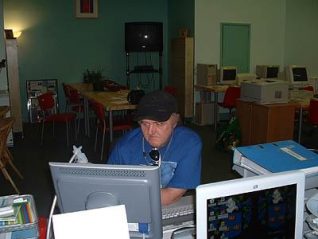 From a private collection
My name is David although I prefer to be called Dave, and I was born in the Kings Cross area of London. I am 48 years old and I am divorced. I have two children, who live with my ex-wife Kathy, their names are Carla and Alexander, and they are 12 and 8 respectively. I came to Brighton when I was 5, as my father's firm relocated here and the family moved with it.
I was educated at Varndean Grammar School For Boys, leaving there at 16 with 4 GCE 'O' Levels in English, Maths, Science and Technical Drawing. I started work as an apprentice motor mechanic but soon gave it up as, although I liked the job, the wages were so poor. I then went to a telecommunications company caled ITT Creed, building teleprinters and other similar equipment. I made my way theorugh the firm and ended up as a field engineer installing and maintaining the equipment on site. Unfortunately, I was made redundant in 1982, the firm being taken over by an American rival.
This prompted a career change and I became a bus driver with the local bus company; however after about 8 years of this I felt I needed a break from driving and took some unpaid leave – however the company took a dim view of this and dismissed me. This resulted in my eviction from my bedsit at the hands of an unscrupulous landlord and I ended up as a "rough sleeper", as it is known.
This went on for about 7 months until I found my way to St. Patrick's where I spent another 7 months in their Night Shelter. A good side to this rather dismal situation was the fact that I made extensive use of the Learning and Resource Centre where I became, with guidance from an excellent tutor, Mr. Tony Ward, computer literate (this despite never having used a computer up to this point). I made good progress in the Centre and was asked to become a volunteer tutor, teaching other residents computer skills, and even basic life skills as some people required even the basic skills.
Thanks to Tony and Fiona (our other tutor) I am now taking a 7307 Teaching Certificate course at City College hopefully to find work, eventually, in a teaching environment, possibly St. Patrick's itself. I have also started to take an ECDL course with Rewards to further my IT knowledge. In May this year (2003) I started to take a course in Basic Computer Installation and Maintenance.
I feel that my situation can demonstrate that good can come out of bad…sometimes.