Lennox Road:The Cats' Creep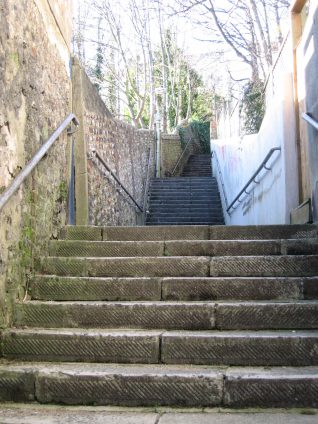 The Cats' Creep is the steep stairway connecting the western end of Roundhill Crescent to the end-on junction of Wakefield Road and Richmond Road, in the district nowadays commonly referred to as Roundhill.  I believe it's the steepest public thoroughfare in Brighton, and that its official name is Lennox Place, although this name doesn't appear on any signs or on any street maps. I'm sure I read this somewhere, but can't remember where or when.
Variants of the name
Alternative variants of its name are Cat's Creep (singular cat), Cat Creep and Catcreep. Take your choice. However I remember it being used by various cats when I used it regularly, back in the days when I lived in Prince's Crescent (1949-1968), so Cats' Creep (plural cats) seems the most appropriate and grammatically correct to me. The Cats' Creep has 116 steps. Somehow I never got round to counting them when I lived locally. However, on a recent day visit to Brighton from my home in Bath on 30th January 2010, one of my objectives was to do just that! (Don't ask.) So I did, and that's how many there are.
Route to Lewes Road
In my younger days the Cats' Creep was my primary route to and from Lewes Road, via St Paul's Street. Lewes Road in those days was a thriving general shopping centre and provided, inter alia, my source of bicycle spares from Bradshaw's and of model aircraft kits from the model shop which used to be approximately opposite St Martin's Street. The Cats' Creep also provided my route to Mr Iri Greenwood's excellent fish and chip shop in Upper Lewes Road, when chips were sixpence and cod one-and-nine; that certainly dates me.
Carrying my bicycle
On occasion I would carry my heavy old BSA Star Rider touring bicycle up the 116 steps rather than pedal or push it up Wakefield Road. Can't think why: just for a change, perhaps? Never tried riding down them, though: I wonder if anybody ever has?
Hidden open spaces
On either side of the Cats' Creep are green open spaces, hidden tantalisingly from view by high walls and cut off by sturdily impenetrable locked doors. According to QueenSpark's excellent "Rose Hill To Roundhill", these were originally an orchard. Despite harbouring a great desire to, I never managed to see these spaces.
Recent plans
There were recently plans to develop one of the spaces for three houses and two flats. This seems more than a little strange to me, as there is no obvious access to the space for cars, or by foot other than from the Cats' Creep itself, because of the surrounding terraced housing. Anyway, the plans have, quite sensibly, been refused. There was a protest movement against the development, whose website can be found at www.catscreep.org.uk. They certainly have my support.