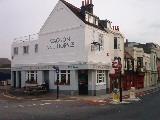 This is the Waggon & Horses pub in Church Street, on the corner of Jubilee Street, and now the site of the new library.
It was built about 1846 and was originally a gymnasium. It became a pub in 1848.
If you go inside and look at the ceiling you are looking at a false one. The original ceiling is six feet higher and was made for the ropes and rings that hung down for the users to swing on.There is a pamphlet in the reference library showing the various exercises that could be undertaken using these rings and ropes.