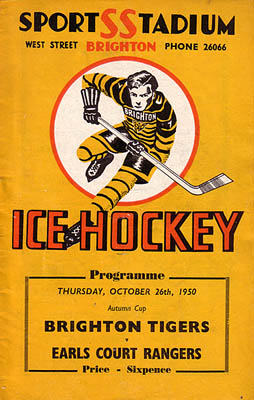 From the private collection of Trevor Chepstow
In the latter part of 1935 a new phenomena was about to change the fortunes of the Sports Stadium. For the first time in the history of Brighton the town was to have its own ice hockey team, called the Brighton Tigers.
Tigers in the heart
The people of Brighton immediately took the Tigers to their hearts, with as many as four thousand people turning up for the game on a Thursday evening. The roar of the crowd could be heard half way up West Street, as the supporters cheered their home team on to victory. The first official match was on Thursday the 24th of October 1935 against the Richmond Hawks, who they beat 4-2. The Brighton Tigers went on to dominate the game of ice hockey as champions for many years to come.
The 1935 team was composed of manly Canadians, as the game of ice hockey was relatively unknown in Britain at the time. This would eventually turn out to be the norm, as very few Englishmen were to attain the very high standards achieved by the Canadian players. One of the outstanding players of the 1935 team was a Canadian called Jimmy Borland. Under the watchful eye and guidance of coach Percy Nicklin, he went on to represent Great Britain in the 1936 Olympics.
Gordie Poirior – Fresh hot Canadian talent
The Tigers, clad in their familiar black and yellow kit, continued to pack the crowds into the rink, right up until the beginning of World War II. They were particularly admired by the local girls and very soon had their own fan clubs. With dashing good looks, Gordie Poirior was the star of the Tigers, newly arrived from Montreal, where he was crowned Champion of Champions. The crowds would scream the roof down as he scored one goal after another, leaving the opposing team players in total disarray.
Bobby Lee – A new hero
But Gordie's days as the Tigers' star were numbered when a new player called Bobby Lee joined the team in 1936. Bobby Lee was to be the new hero of the Brighton Tigers, with his dark good looks and amazing hockey skills. The crown remained Bobby's for many years to come, as he went on to become captain and coach. Bobby Lee will be remembered in the Ice Hockey Hall of Fame, as one of the few men in the history of British Ice Hockey to score four hundred points in his career.
Anyone requiring further information regarding the Sports Stadium and the Brighton Tigers can contact Trevor Chepstow at ssbrighton@hotmail.com