A chequered and sometimes unsavoury past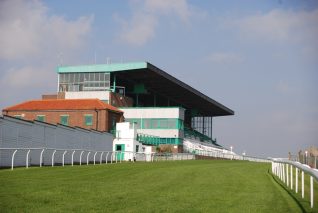 Please note that this text is an extract from a reference work written in 1990.  As a result, some of the content may not reflect recent research, changes and events.

c) EASTER VOLUNTEER REVIEWS: Brighton Race-Course and the Race Hill were also used for annual Easter volunteer soldier reviews for many years. The first took place in 1861 when 12,000 volunteers arrived by train to show how the railway could be used to move troops, and a number of manoeuvres were carried out on White Hawk Down, culminating in the sham 'Battle of Ovingdean' on Easter Monday, 1 April 1861; the following year, on Easter Monday 21 April 1862, the 'Battle of White Hawk Down' was fought. The reviews provided an exciting and colourful spectacle for visitors who crowded in to the race stand to watch, and they continued for many years. A rifle-range for the volunteers was established in the 1870s at Sheepcote Valley, giving the former Rifle Butt Road its name.
d) CORPORATION TAKEOVER: At the peak of its popularity, and under the terms of the 1884 Brighton Improvement Act, the race-course was vested in the corporation from 1 October 1888, but was leased back to the Race Stand Trustees. The trustees themselves then purchased part of the Marquess of  Bristol's estate and sixteen acres of the Beard estate in Ovingdean , and presented the land to the corporation which thereby owned the whole course and race ground by 1898; the Race Stand Trustees also purchased Queen's Park on behalf of the town at this time. Two days of racing in the spring were organised for the first time, and the summer 'Sussex Fortnight' of racing at Brighton, Goodwood, Lewes and Plumpton became established. Racing was suspended during the First World War from August 1914 until September 1917, and the stand was used as an ammunition dump and food store.
e) RACE GANGS: By the late 1920s Brighton Races had regained an unsavoury reputation and were terrorised by London gangs running 'protection rackets' and other illicit schemes. Frequent skirmishes and razor fights horrified visitors, and trouble continued until June 1936 when the 'Hoxton Mob' were arrested at Lewes Races. The seedy underworld of Brighton and its races is described in the well-known novel Brighton Rock by Graham Greene, published in 1938. The film, starring Richard Attenborough, Hermione Baddeley and William Hartnell, was shot in 1946 and included location scenes of the Lanes, North Street , Queen's Road , Church Street , Palace Pier , Aquarium Sun Terrace and the Grand Hotel . The film crew was ordered off the race-course as corporation permission had not been given, an incident that earned the production much publicity.
Any numerical cross-references in the text above refer to resources in the Sources and Bibliography section of the Encyclopaedia of Brighton by Tim Carder.