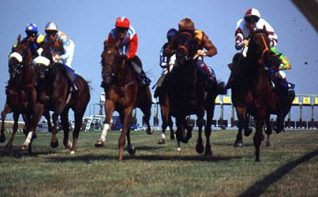 From a private collection
Brighton Racecourse is not the most popular racetrack, but this to me is one of its attractions.
The lack of huge crowds allows me, as a photographer, to get close to the action, and also to chat with the jockeys and starting stewards. We get the top jockeys when there are no big meetings elsewhere.
The races start in open downland, and you can see the race from beginning to end. The colours, the smells and the sounds of a dozen thoroughbreds galloping past is an excitement which is difficult to surpass.