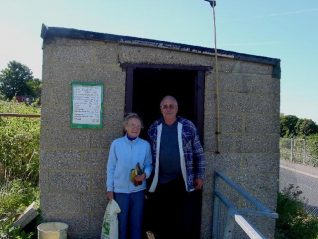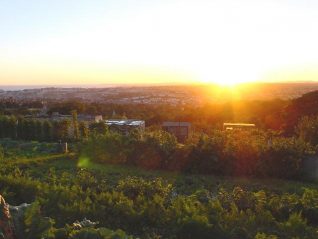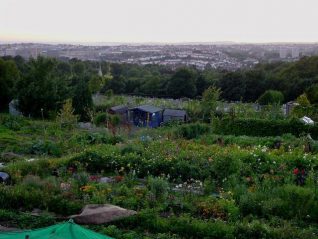 Pam Bean is now into her eighties. She has lived in Brighton since the late 1950s and currently lives in the West Hill area of Seven Dials in Brighton. Pam used to run a business locally, but has been retired for more than twenty years. Pam has an allotment at Tenantry Down, which she kept with her husband Fred who passed away two years ago.
Pam's plot
"The allotment plot is on quite a slope. At the moment it's a little bit neglected because I've been gardening on my own for two years, but I've managed to get a help – a young school teacher – so it should be improving all the time hopefully. I grow quite a selection of fruit: we've got apple trees, raspberries, strawberries, rhubarb, blackcurrants, redcurrants – although the birds have those – we've got a cherry tree – the birds get quite a percentage of those too. At the moment we've managed to get some green vegetables going: purple-sprouting broccoli, and some Brussels sprouts and some cabbages are coming along for the winter. Carrots were a failure, we only had a handful. We do quite well with potatoes. We've got herbs, and we grow quite a lot of flowers too. But there's always something coming from the allotment.
Memories of Aileen and Fred
"Well a friend who lived in West Hill – Aileen – she was born in Barbados and got a scholarship to England to do art. She was a painter; she was very artistic. So, she asked me to join her. She was a good gardener, but she didn't like destroying things like dandelions, so we had a little struggle over that. I think that was about 1976. Gradually she got older, she used to come up and I'd garden and she painted, and then, well, she died. She loved it here, between us we learnt quite a lot. By this time we'd [my husband Fred and I] retired, so it must have been '82.
"In 1987, my husband became partially-sighted and couldn't play golf, so he said he'd come and help me. He was a very tidy man. He couldn't stand Aileen's way of gardening because that was untidy. When he got our garden almost what he thought was in shape, he started on the garden below us. He couldn't stand it being so overgrown, so eventually we took that over as well. Although he couldn't see very well, he made cold frames out of old doors, and eventually we built a greenhouse out of old doors. It's still up – only just. But it was a wonderful way of passing the time, and Fred never grumbled about any aches and pains, or nor being able to see, he just got on with it.
"Although he wasn't really a gardener, as he said, he loved digging. We used to come up here four or five times a week and spend hours, bringing lunch and we could make tea. It was a way of life, a very happy time. He was eighty-eight when he died. He was on the allotment the last day of this life.
Blights of an allotment site
"We've never been quite so busy since the Garden Centre came, I think that was about twelve years ago. Before that the shop was buzzing every Saturday and Sunday. We had two people on duty. We seem to get a lot of vandalism here. It's sad really. We're forever reporting locks gone on gates. Well, they burnt down our hut from which we sold things – two and half years ago – [just before] Fred died. That's the worst thing that's happened up here. Since Christmas we've had seven of our own huts burnt down [interview conducted in August], which is, well very distressing. It means we can't leave anything in our huts. All our good tools we bring every time.
What's does a site rep do?
"Well I hadn't any ambition to be site rep, but I went to the meeting of the Allotment Association and I was the only one from Tenantry Down so I got elected as site rep. We've got a lot of plots up in Tenantry Down, I think we've got 158 on the two sides. The Council gives prospective allotmenteers my number and then I arrange to meet them and take them round and show them the plots which are available. I like doing that. They're very often family people, and last week we had two young schoolteachers, they came round with their little boy, and also the parents of one of them; and I had my granddaughter with me. I like taking people round. Bill's a site rep [Bill Burton]. You can arrange a time when you can both be there. For people who work it's usually on a Saturday or Sunday, but I do come up at any time. I actually came up when the snow was on the ground this last winter.
A life organic
"I belong to the Brighton & Hove Organic Garden Group and that's getting on very well and I think that will spread, because it's logical and it's easy, well, I suppose it's easy. People talk about organic vegetables, which are so very expensive in the shop, but there's a good reason to have them and I'm hoping that's going to influence people. I think the Government tries, and people like Jamie Oliver try to do good food, and I think that should have some effect.
"My father had an allotment and he was a great gardener. He didn't know he was organic I don't suppose, but he never used any poisons. He spoke a lot about humus in the soil. He was a great manure man. When they retired to Cornwall he used to collect seaweed off Marazion beach and that rots down quite easily. So, the organic group is really no different to me from the gardening that's always been in my family.
If it wiggles
"I've learnt quite a lot from some of these old gardeners. They never use the hose just to spray round. They always fill up tanks and water with a watering can, something about the water settling. I'm not sure of the science behind it. John had a rule of thumb, when I asked him about insects. I think it was an eelworm – they don't move much – ones that move quickly are not dangerous, like centipedes and millipedes, but the ones that go slowly you want rid of them."