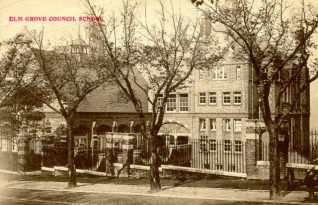 Please note that this text is an extract from a reference work written in 1990.  As a result, some of the content may not reflect recent research, changes and events.

c) BRIGHTON SCHOOL BOARD: The 1870 Education Act established local 'school boards', bodies elected by the ratepayers of the district to control public elementary schools for children aged five to ten; a small weekly fee was chargeable unless the parents were very poor. Religious education was taught, but not in the views of any particular Christian denomination; there were, however, continual disagreements between the clerical and lay members of the board. Elementary education was made compulsory in 1880 and was provided free from 1891. The School Boards of Brighton and Preston were united in 1881.
Upon its foundation, the Brighton School Board immediately took control of the Puget Schools in Clarence Yard, a school in Circus Street, and schoolrooms at Belgrave Street Chapel and London Road Chapel (Belmont Street). It also took over the Middle Street Schools in 1874, and erected many new schools buildings over the next thirty years to the design of its architect, Thomas Simpson. They were: York Place (1870); Fairlight Place (1870, rebuilt 1931); Richmond Street (1873); Hanover Terrace (1873, later Secondary Technical School and now College of Technology annexe); Sussex Street (1874); Queen's Park, Freshfield Place (1880); Preston Road (1880, closed 1937, later Preston Technical Institute and now College of Technology annexe); Finsbury Road (1881, later St Luke's Secondary School and now a polytechnic annexe); Circus Street (1883, closed 1928, now a polytechnic annexe); Ditchling Road, now the Downs School (1890); Stanford Road (1893); Elm Grove (1893); and St Luke's Terrace (1903).
In addition, the board took over a disused workhouse at Chailey as an industrial school for truants in 1875, but opened a new truant school at Purley Lodge in Old London Road, Patcham, in 1882. Together with the London School Board, the Brighton and Preston United School Board built another industrial school at Mile Oak Road, Portslade, in 1902. This school was used by Brighton until 1913.
Any numerical cross-references in the text above refer to resources in the Sources and Bibliography section of the Encyclopaedia of Brighton by Tim Carder.
The following resource(s) is quoted as a general source for the information above:   24,83,115,296a