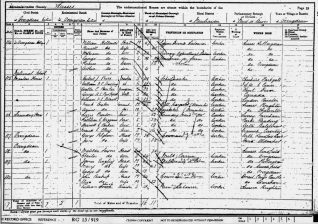 I have been researching my family history for quite a number of years. I thought it might be helpful to others who are just starting out, if they had a few tips and websites to start on their journey.
A good idea to 'Google'
A good idea is to 'Google' family search, which will bring up many websites. Some sites have a system where people will search for you if you give as much information that you know. It is nice to remember to thank them for their time. Sometimes it is best to work backwards from your parents/grandparents birth/marriage certificates, where you will find the fathers name also the female's maiden name.
Useful websites
Websites I have found useful are www.familysearch.org this is a Mormon website and it is free. There is www.friendsreunited.co.uk which is free to look, but you need to register. On the site www.genesreunited.co.uk there is a yearly fee, but it is well worth joining.  They have census and records; look up message board, and also a surname search board. The Commonwealth War Graves Commission www.cwgc.org is a free site. For ancestry.co.uk there is a yearly fee. The latest available census for 1911 is pay to view.
Good luck
I do hope you find this helpful and wish you the best of luck with your research.  Don't forget that if you have any questions that you would like to post here, you can do so on our very lively and informative Message Board.