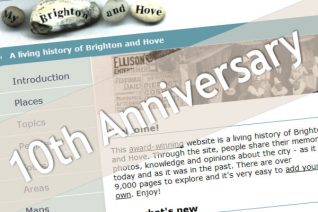 2010 is a very important year for My Brighton and Hove – it is our 10th anniversary. And – on 23rd of March we were proud to publish our 10,000th page.
How we started
The My Brighton and Hove that we all know and love came about because of a project started in 1995. The brief for creating an interactive exhibit about Brighton's history was put out to tender and won by local multimedia company Desktop Display and multimedia designer Jack Latimer.
Personal tours
Their concept was to create a history of Brighton based on 'personal tours' created by local people. Hence the name of the project – My Brighton. Individuals, ranging from a schoolchild to a taxi driver, were given cameras and asked to create their own tours of Brighton. The resulting material was used to create an interactive CD.
My Brighton and Hove 2000
The tours revealed both the serious and the amusing sides of Brighton, and provided jumping off points to historical material such as related stories and galleries of images. In order to make the material accessible to all, 60 volunteers started work in 2000 on converting 'My Brighton' CD onto the Internet. The rest is history.
New personal tours
As we are all well aware, ten years on we are a city not a town, and many changes have taken place in that time. The volunteer team here at MyBH thought that an appropriate project for this anniversary year would be a collection of 'personal tours' of the city entitled 'My Brighton and Hove 2010'.
Special 10th year anniversary section
Each of our participants will be featured in a unique 10th anniversary section on the website. They will introduce themselves and then take us on their personal tour. When the tours are published we hope that you will join in by telling us about your memories of the places on show.