Ditchling Road School and the air-raid shelters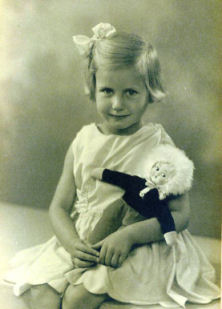 From the private collection of Stevie Hobbs
Memories still fresh
As a child I went to Ditchling Road School, now known as Downs School. I have already written some of my memories in a book which was published when the air-raid shelters were discovered under the playground. How strange that no one should have known about them, except the children who used them regularly. Even as I write, the memories of those days are still fresh in my mind. I can still smell the wet concrete, new wood and Izal disinfectant.  
Trench Monitress
I was what they called a 'Trench Monitress', and I took my responsibilities very seriously. Every morning two of us had to carry a pile of comics and a biscuit tin full of chocolate down to the shelters. Every afternoon when school was over, we had to bring them back up again when they were locked in a cupboard. Why we had to do this I have no idea. Maybe they were left open for others to use them in air raids out of school hours. The chocolate had to be brought by each pupil on the first day of school each new term. Their name was written on it and it was placed in the sealed tin. 
In chocolate heaven
The last day of term, we were allowed to open the boxes and eat everything that was left. Of course sweets were rationed, so one 2 oz bar of chocolate was a week's ration at that time. Or maybe a month's – I forget. Anyway we used to munch away on that last day like we were in heaven. The comics were of course to help pass the time, but the lighting was very poor. Some teachers tried to provide lessons but it was cold and we were balanced on benches which lined the wall, and were very sparse – just slats of wood.  
Toilets like dustbins
The corridors were about 4 feet wide at the most. I remember it was difficult to walk between the legs. The toilets were like dustbins with seats on – and they had strong-smelling Izal disinfectant in the bottom. If one had to 'go', the noise could be heard echoing down the corridors, and the feet and half the legs were showing under the doors. The trenches were zigzag and I think there were toilets at each intersection. Who emptied these bins I have no idea but they always smelt clean.  
We felt safe
The sound of voices also echoed down the corridors of the shelters, so it must have been very difficult to teach under these conditions. It was exciting to hear the sirens so that we could escape lessons for a while. One could hear the dull thud of gunfire and the rattle of aircraft guns fighting above, but one felt extremely safe down there. If a bomb had dropped on the playground, I can't bear to think what would have happened with us all trapped below. I heard it had happened in another school. The Odeon cinema had been bombed on a Saturday morning when it was full of schoolchildren with great loss of life.  
Watching the planes' dog fights
Lots of bombs were dropped on Brighton because fighters often chased bombers back out to sea before they reached London, so as not to have to carry the bombs back home, they dropped them on the last bit of land. We used to watch the dog-fights going on overhead and cheer when one of theirs went down and boo when one of ours got hit. We saw two planes collide and one pilot escaped with his parachute but the other didn't make it. It was a spitfire and it fell just near my house on some allotments. I can't remember where the pilot fell, but mostly when things fell out of the sky we only thought of collecting trophies.  
Gruesome kids?
Parachute silk was very valuable to make ladies underwear as they were made of pure silk. We couldn't get much in the way of any clothes or material of course, so were delighted to get a bit extra. I was very surprised to find that planes consisted mostly of canvas stretched over a light framework and painted silver. Gruesome kids weren't we? We wore tin hats and played with guns just like kids do today – but it didn't turn me into a killer nor did I grow up and join the ATS. Nowadays I just join in anti- war protests.