Photograph taken by Zoë Woods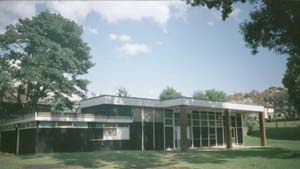 Photograph taken by Zoë Woods
Back in 1978 I worked for the local play group which was up in the Church Hall and there was some degree of conflict with the other users. They would rent the hall out at the weekends for functions and birthday parties and the staff would come in on a Monday morning and find lots of broken glass and the toys all over the place and it really was an unhappy situation. In a moment of sheer weakness I said 'Why don't they get a place of their own?'. Big mistake, 'cause they took me at my word!
We called a public meeting first off and they ended up saying 'Yes' something was needed so we set about fundraising. Unfortunately at the exact same time that we started, the Council, in their wisdom, decided they might think about building 26 houses on this green. We thought it was ghastly that we might loose the green but we thought it even more ghastly that they would do such a thing in the middle of an estate that is already crowded with houses. To destroy this green would have been absolutely criminal. It took us about 18 months for us to stop that happening and we were extremely supported. We went on from there and we tried to fundraise – it was very uphill, really hard work. We finally managed to persuade the Council to give us an interest paid loan of £10,000, like a grant.
The building started life as a gymnasium in Notting Hill! Oh yeah it was brought from a Convent in Notting Hill for the princely sum of about £5000 I think or something ridiculous! We had outline planning permission to build the centre but we couldn't get full planning permission until we had the building. 'Tidies', local firm, they let us store it all on their land up at Ditchling Common which was wonderful. Some of it deteriorated in the weather and it was hugely problematic. It took us 11 years from 1976 to 1987; the place was finally opened in 1987.
The very ethos of BECCA is that it is a community project; most of it was actually erected by ourselves we did it the hard way. You know it took us 11 years to get the place up and running. When we first opened the town councillor said he was hugely impressed that we stayed the course. He said 'Most organisations would have fallen by the way side and given up', but we were just too pig headed. Anyway we got the place up and running and it's been running ever since.