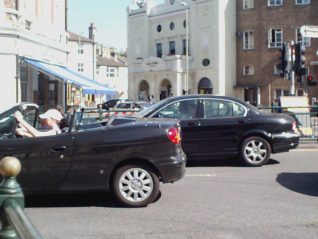 Photographs by Sandra Koa Wing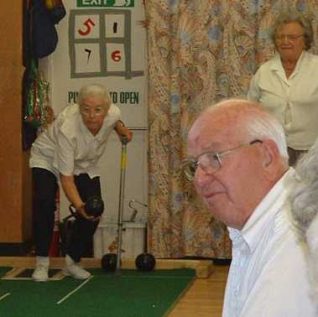 Photographs by Sandra Koa Wing
Hilary, a member of the BECCA Centre 50 Plus club, shares her story of having lived in Brighton all of her life. She describes how it has changed over the years, and how she loves spending her time sequence dancing and bowling.
I am living near Preston Circus. I've been there all my life, and still haven't moved, I'm still there! It's over seventy years now, so it's a long time, and I still sleep in the bedroom where I was born! Not the same bed, of course! So, that's it: I've never been very far.
Brighton has changed
Brighton has changed a lot, a great deal, because they've got the wider roads an' all, and I've don't think they've done very good for us at the circus actually, because so many cars parked now round, people can't come to see you because they can't park anywhere. That's another bad factor that didn't used to be. Brighton has changed quite a bit, you know. A long time ago I remember coming along Preston Road, near where I play bowls at Preston Park, years ago, I was only a little tot then, and there was something to do with the jubilee thing, a mug. And I know there was something special going on, and I didn't know what it was all about. I remember I was frightened walking along there, and seeing all the things! But then afterwards you realise what it was all about!
Great for young people
Brighton has changed a great deal. For the youngsters, yes, it's very very good, I would say, but for the older people, there are things to do, but I've usually gone outside of the town to do it. Like, I do sequence dancing: I've never actually done much in Brighton, I've always gone out, way to Lewes, and different places to do it. I've done sequence dancing over at Lewes for forty two years, and I'm still doing it at Southwick, actually, but I only do it once a week now: I used to do it every night once upon a time, but, of course, I couldn't do that now!
Plenty going on
There's always plenty going on in a way, you can always find something to do, got the park where we play bowls in the summer, and I play down the King Alfred in the winter, inside, that's Hove, that's very nice, the King Alfred, down there. Plenty to keep you going. When people are older, they didn't have much to do: they only used to sit a bit on the seats, and talk, and just that: that's all they had to do years ago, but now we've got so much more to keep us going, you know.
I started coming to BECCA in Lower Bevendean several years ago now, quite a while now. My sister in law belongs out there, but I come out: I always come out for the bowling. I come out by bus: I have to wait for that: that plays a bit sometimes, it doesn't always come on time, but still, never mind. They do their best: all sorts of obstacles, you know. It's all good fun, plenty going on, plenty to do, table tennis, if you find people to do it with you! Now they're getting older they don't want to do as much as that: a bit energetic for them, you know! We're all getting older, that's the trouble, you know.