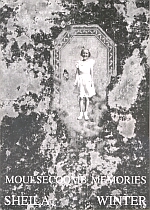 Below is an extract from 'Moulsecoomb Memories' by Sheila Winter. This is a personal history depicting the growth of North Moulsecoomb through the reminiscences of the author who was born, raised and married there during the years 1929 to 1950. The book is published by QueenSpark Books , Brighton and Hove's community publisher. Extracts from more QueenSpark Books are published on their website .
"Despite the poverty of the day the ladies of Moulsecoomb never let it worry them, not in front of others. They did their worrying and weeping behind closed doors.
Any excuse for a bit of a knees-up, there was always some refreshment prepared by the ladies and a lot of speculation as to who was going to win the election. When the results came through there were the usual moans and the usual cheers.
Everyone discussed the merits and the shortcomings of the various councillors. As it is now, so it was then. Whichever party was elected, the rich got richer and the poor stayed just as they were."