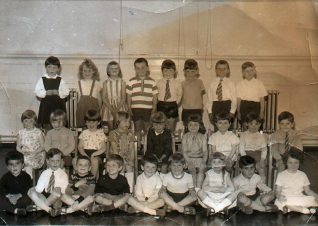 Photo submitted by Ruth Touhey
All I can tell you is that this photo was taken in 1967 at St Luke's school.
I remember playing Batman & Robin with two of the guys (I think one of them was Paul) and I was always Catwoman!! Don't remember who my teacher was or anything that would be worth writing about.
We lived at 114 Freshfield Road in a house that was owned by BR at the time. My dad worked for BR. I do remember some of the Xmas parties that were held for the BR families – they were held in the social club at Newhaven.
We moved away from Brighton shortly after this photo was taken. We returned to Sussex – Worthing – in about 1973 and I have stayed in the area ever since. Would love to hear from anyone in the infants at the time who may see themselves in the photograph.