Memories of a prefect in the 1930s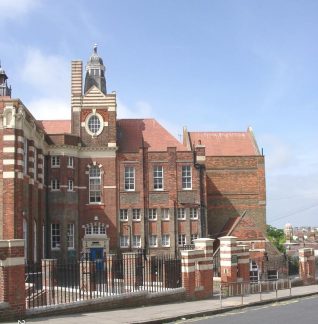 This photo shows what was once the entrance to the St. Luke's Senior Boys School. During the last year at that school, at the age of thirteen, I was a prefect, and one of my duties was to ring the school bell in the tower shown, to warn students that they should be inside the gate in a few minutes. I could see St Luke's Terrace and the gate from the window on the ringing platform, and when one of my friends was late I would prolong ringing the bell until he was safely inside.
Moved to Brighton in 1928
I was born in Birmingham, England, in 1922, so am nearly 82 years old. In 1928, when I was six, my mother moved to Brighton and we lived in the council houses in Firle Road, near the top of Freshfield Road. My father was a tram conductor, then a tram driver, then a trolley bus driver. My mother was a waitress in the Silver Grill, in West Street. My mother and father stayed in Firle Road until after my father died. In about 1990, when the Council decided to refurbish the house, mother moved to a nearby council house in Freshfield Road.
Memories in a QueenSpark book
Reading the QueenSpark book "School Reports," on St Luke's School, reminded me of many things that happened, and I remembered Charles Godfree, Mr Pollard, and Mr Raisbeck, the headmaster at that time. I also remember Ronald Satterley, mentioned on page 44, who was in my class and left school with me at the end of 1937. He lived in Whichelo Place, about the second street on the right down Islingword Road from Queens Park Road, I remember.
Some of my old school chums
Unfortunately, I don't remember many names of my boyhood friends. A few were Inkpen, Goad, Mason, Cushnie, Whiting, Maynard. I don't clearly remember the names of any of the other boys in my class at St. Luke's, though I believe I would recognise them if reminded.
Joined the RAF in WWII
When the war started in 1939, I was working as a welder, and the labour exchange sent me to work in Camden Town, London, making parts for bomber aeroplanes. Later I was able to join the RAF and was trained as a Flight Engineer.
Still many fond memories of Brighton
After the war I worked as a photographer for the Machinery Publishing Co. in a large modern (then) building on the corner of Regency Road, in West Street. I was active in the Brighton Excelsior Cycling Club, and married one of the members, Stella Smith. We were forced to move to Wembley because my job required it, then to Wallington, but we did not lose losing interest in Brighton, where both our parents still lived. We are both now retired and frequently visit Brighton, of which we have many fond memories.