In praise of Brighton beach, 2000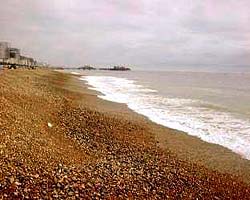 My own 'Brighton and Hove' is centred at a small, randomly chosen point along the beach, east of the West Pier, where I sit relaxing, as the glistening stones hiss and shush to the rhythms of the sea. From here, facing north, the creamy walls of a curving crescent rise upwards, with a thousand windows looking seawards, gleaming in the morning sun.
A vibrant tide of humanity
Along the seafront, a vibrant tide of humanity also sweeps up and down; some seeking out shops, restaurants, and other attractions, whilst others watch the various street entertainers juggling or playing music; as numerous in their distractions as the languages being spoken. Variety and bustle seem the order of the day, and there is an infectious air of "being alive." The streets are rich with all the facilities of a "London" or "Manchester", but, in an atmosphere scrubbed clean of fumes by the omnipresent sea breezes, seem less fatiguing to the explorer.
Only the sea and the sky
And yet, if I turn South, there is only the sea and the sky, and I can feel alone with the universe; drifting, whilst the sighing stones whisper of time, peace, and immortality. It's all a question of balance…