Engineer and designer of the Chain Pier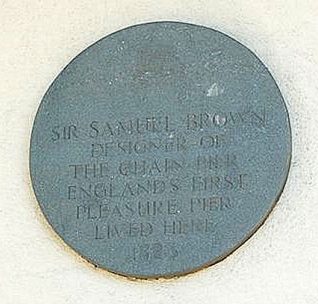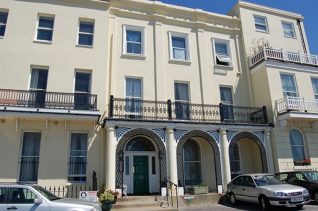 Captain Samuel Brown lived at 48 Marine Parade Brighton, while he was supervising the construction of the Royal Suspension Chain Pier, Britain's first pleasure pier which stood from 1823-1896.  Brown was a Naval Officer who was a specialist in naval and marine engineering.  The Chain Pier was the first of only two suspension piers to be built; the second being on the Isle of Wight in 1880.
Dimensions of the pier
Brighton 's Chain Pier was 1,134 feet long and 13 feet wide.  It featured four spans of 255 feet with four pairs of cast iron towers, each 25 feet high with a 10 foot wide opening for traffic.  Check chains were added at a later date because of the continuing sway of the pier in bad weather.  The pier had two anchorage points, one on shore in the cliff face, and a seaward anchorage of a very large pile of rocks.
Its original use
The Royal Suspension Chain Pier was originally intended for steamer embarkation but it soon became a very popular place for promenading.  The public were very taken by the fact that they could walk over the sea water without once getting their feet wet.  As the numbers of visitors grew, so did the facilities on the pier.  Eventually there was a camera obscura, a bandstand, shower baths and kiosks.
Final demise
Storms hit the Chain Pier on a number of occasions; notably in 1833, when an electrical storm caused a lot of damage.  The people of Brighton were so upset at the thought of losing their pier that it was repaired by public subscription.  Its final demise was in 1896 when it was totally destroyed by a great storm, while awaiting demolition.  At that time its successor, The Palace Pier, was partially built and flotsam from the old Chain Pier caused it damage.